There is something very unique about a dining table. The dining table is unlike any other piece of furniture in the house. It's not just that it forms the centerpiece of any room, and is used numerous times a day by the whole family.
Understanding its parts well will give the idea to your supplier as to what are the trends for dining tables nowadays.
That's why it makes sense to invest in a good dining table where it has standard dining table parts as a manufacturer. With this blog, let's find out what are parts of a dining table that are common in today's trends and times.
Dining Table Tops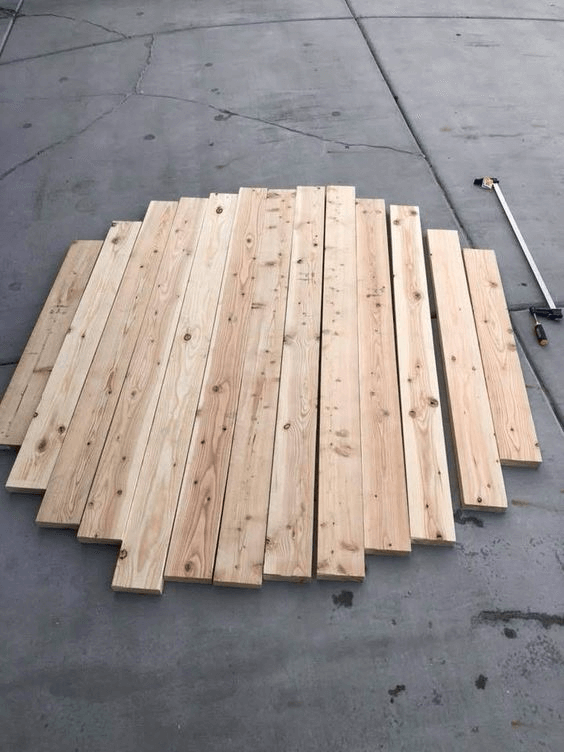 As a manufacturer or supplier, it's best to follow the standard with good parts and materials. An example is how the dining table makes end-users eat the food faster and feel more satisfied, while at the same time giving them a sense of well-being. Well, here comes the necessity of good materials that need to be considered. If the dining table tops are vibrant in appearance, it makes eating even more of a pleasure.
What is a Dining Table Top?
Dining table tops are as much a centerpiece for the dining area as they are works of art. That is the reason why you need to choose a well-established dining furniture parts manufacturer if you want to have a good dining table. A well-made dining table top makes a big difference in a room, using top-quality wood and woodworking techniques that can turn any dining area into a piece that would be of interest to almost anyone.
Dining table tops are the tops that we place the dining table on. They generally come in three different types of material; solid wood, veneer, or sawn timber tops. Each one of these has its own unique qualities.
Materials
Tops are available in a variety of materials. Each has advantages and disadvantages, so choose a top based on your needs. Wood tops are long-lasting, but can scratch. Stone is heat and scratch resistant, but can chip. Glass is easy to clean, but may not be suitable for homes with children or pets.
Wood:
Long-lasting and sturdy, wood tops stand up to daily use. It can be refinished on a worn surface over and over again. Wood tops tend to be heavy, and they may require special care when cleaning.
Stone:
Like wood, stone tops have natural variations in color, grain, and texture. They are heat-resistant and impervious to most stains when sealed properly. However, they are heavy and can chip if abused.
Glass:
Glass is versatile because it's easy to clean and more lightweight than other top materials. Some glass tops have a painted underside that conceals the finish of the table below it; this makes it an ideal choice for table bases with interesting details you want to show off.
Shapes
Round Dining Table Tops:
Round dining table tops come in either a 48″ or 54″ diameter. For the 48″ round top, you can choose from an inlaid laminate top or a solid wood top with a choice of edge profiles. The 54″ round tops are available in an inlaid laminate or solid wood with no edge profile options.
Rectangular or Square Dining Table Tops:
Rectangular and square dining table tops come in various sizes and thicknesses. All rectangular tops are available as either an inlaid laminate top or as a solid wood top with a choice of edge profiles.
Design and Styles
Dining Table Tops are available in a variety of designs and styles. The most design and styles for dining table tops are:
Glass dining table tops styles are more expensive than other materials but have an elegant look to them.
Metal dining table tops styles are usually made from stainless steel. Metal is durable and can be used outdoors as well as indoors.
Stone and marble dining table tops styles are durable and easy to maintain making them ideal for outdoor use.
Wood dining table tops styles are available in a variety of styles such as teak, oak, pine & walnut.
Keekea a guaranteed dining table top manufacturer must be considered when you ordering your OEM & ODM dining tables and table tops project.
Dining Table Legs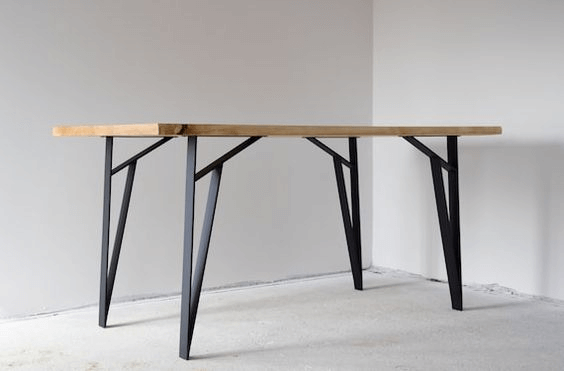 Consumers have to make sure that the dining table legs are sturdy so that they can support the weight of the tabletop. It is also important that the dining table legs are in sync with the rest of the design of your home.
What is a Dining Table Leg?
The dining table leg comes with different materials and designs depending on what type of dining table it is. In fact, there are many kinds of dining table legs available today. One of which is the dining table leg is made from solid, hand-turned hardwood, and has a classic design that will never go out of style. Or a dining table leg that is made from steel or metal. Nonetheless, if you want a customized dining table leg, you may contact your supplier to customize your own design.
Materials
Dining Table Legs are typically made from one of three materials:
Metal. Metal dining table legs come in a variety of finishes. Whether you need a wrought iron dining table base or a stainless steel dining table leg, you can find the best selection in the market for your project.
Wood. If a classic look is what you are going for, shop the selection of wood dining table legs. Suppliers often offer several sizes and species so you can find the perfect style for your project.
Solid Surface. Solid surface dining table legs offer a contemporary look with a smooth finish. If you are sourcing modern furniture, this might be the right choice for you.
Designs and Styles
Dining tables are the most necessary furniture for a dining room. It is available in different sizes, materials, shapes, and designs. The table legs are one of the parts of the table and it's also a part of the whole dining table design. Here we will discuss various styles and designs of a dining table leg.
Designs and Styles Dining Table Leg:
Wooden Leg Design and Style: These are made from high-quality wood like oak, pine, teak, and mahogany. They are durable and look stylish with every kind of dining table. But they cannot be adjusted as per requirement.
Metal Leg Design and Style: These are made up of steel, cast iron, and aluminum. They give your dining room a contemporary look because they come in different shapes, sizes and designs. Users can adjust them according to the height but they require more maintenance than others because they can easily get rusted or corroded.
Chrome Finish Leg Design and Style: The chrome finish looks great if the table is made of wood or marble top.
For convenient table legs, choosing a dining table leg maker should be on the top list of consideration.
Dining Table Leaf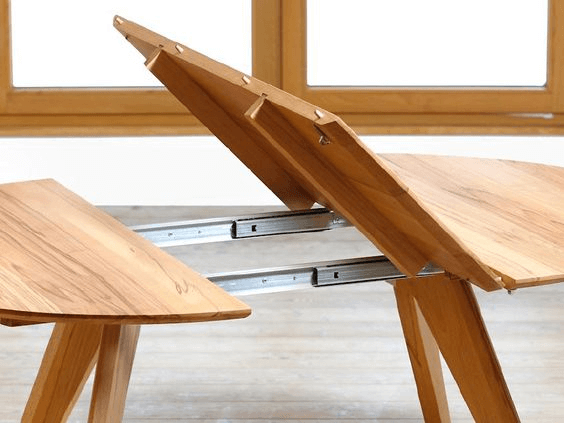 Dining tables come in all shapes and sizes. But there is one common feature all of them have: at some point, most people need a little more space. A dining table leaf can be a great way to extend your table's size without having to invest in a whole new one.
What is Dining Table Leaf?
A dining table leaf is a piece of material that you can put on the table when you want to increase its size. It is usually made of wood and can be found in different colors. Most of the dining tables available in the market have leaves allowing for multiple uses. When using them, you should also take extra care since they are fragile and need proper maintenance to last for a long time.
Materials
The type of material used to construct a dining table leaf depends on what it will be used for and whether it will be part of a permanent fixture. Most leaves are made from wood, metal, or plastic. If the leaf is going to be used daily, it often has hinges that allow it to flip up for easy storage when not in use.
Wood is one of the most common materials used because it can be easily reshaped and carved into different designs and styles.
Metal leaves are often permanently attached and constructed from stainless steel or aluminum.
Some plastic leaves are also available, but they are less durable than wood or metal, so they are usually only used as temporary fixtures.
Designs and Styles
Dining table leaves are extensions that add length to a dining table.
The most common designs of dining table leafs are as follows:
Self Storing Leaf: This type of dining room leaf has a housing built into the table for the leaf to slide into. The leaf is stored in the table, and when it is needed, the user slides it out to extend the length of the table.
Butterfly Leaf: This is a type of drop leaf that is hidden inside the dining room table. It is hinged and unfolds to double or triple the length of the table. When not in use, it folds back into itself and sits flat against the inside of the tabletop.
Drop Leaf: This type of dining room leaf is hinged on one side, and when not in use, it drops down on both sides.
Topped Drop Leaf: This is a type of drop leaf with an extension on top that allows users to pull it out to extend their dining room tables.
Dining Table Bases/Pedestal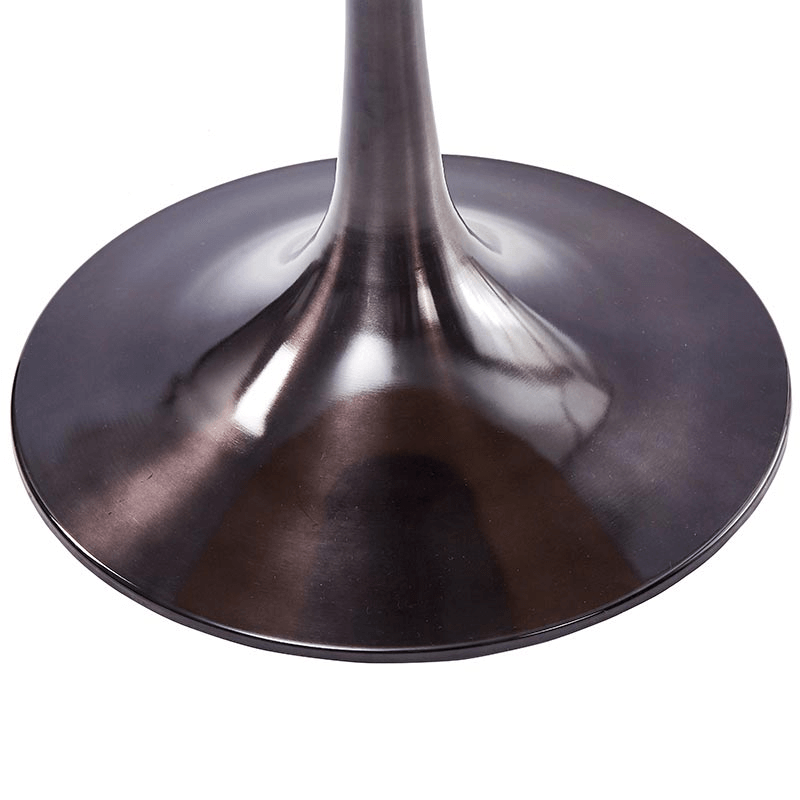 The dining table bases are a fundamental part of the set-up, and it is important to choose the one that fits your needs. There are several options, including pedestals, trestles, four legs, and even two pairs of legs connected by a stretcher. The possibilities are innumerable so that you can choose the one you like best.
What is Dining Table Bases/Pedestal?
Dining Table Bases/Pedestal – Dining table Bbases/pedestal is one of the important pieces of furniture for the dining room. It has several functions as a holder and it is also a decoration for your dining table. There are many types of Dining Table Bases/Pedestal which you can choose according to your needs and taste.
Materials
Wood bases have been used for centuries in all types of applications, from simple to ornate styles. Most wood dining table bases are constructed by joining several pieces together, usually with dowels or screws.
Wood dining table bases come in many different finishes from a natural stain to painted colors such as black or white. Some wood bases are solid wood and others use parts made from plywood or particleboard to achieve a more economical price point while maintaining strength and stability.
Metal dining table bases consist of steel tubing welded into shape to create an exceptionally strong base that will last many years if treated properly.
Designs and Styles
There are many kinds of dining table bases/pedestals that you can choose, but there are some most popular ones as:
Round base. It is one of the most favorite types of dining table bases. Many people love to choose this type because it gives a simple and elegant look to your table. We can use this type for any kind of table such as wooden, iron, marble, etc.
Square base. A square base is the other popular choice besides a round base. It gives a modern and minimalist look to the dining table. The square shape also makes the table look larger. It is suitable for those who want to put their dining table in a small space to make it look bigger.
If you want a customized table base or pedestal, you need to consider a dining table base factory.
Conclusion
In the end, choosing the right meets every requirement and need. Besides, a dining table that makes people feel comfortable with its convenient features will make your customers enjoy dinner time.
A dining room table should have the best design that is fully in accordance with the market taste. And it is not only about the dining table, but also its other furniture and decorations. In addition, you can search for designs to match your project and description at once.
If you want to wholesale or customize the latest dining tables in bulk, just visit Keakea for the newest product update.