An armchair is a comfortable chair with side supports for one to support their hands. There are different types of armchairs that fit different kinds of setups. For instance, an armchair used in a hospital setting is not the same one that would be used in a home. This is why different buyers need a guide on the different types of armchairs, so they can be able to make the right choice and ask the arm chair manufacturer to provide them with bespoke armchairs if need be. In this blog, we are going to break down each type of arm and provide you with a detailed analysis of each and every one. But first, let us have a look at the different features of an armchair.
Features and Applications of an Armchair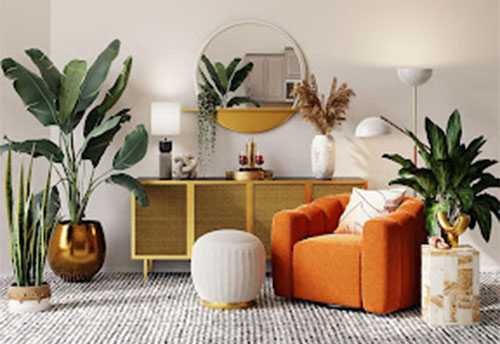 Source: Unsplash
There are different features for different types of armchairs. When choosing an armchair, you should consider the type of material used to make the chair and consider where you are going to use the armchair. As we have already mentioned, different types of armchairs fit in different places. Some of the most common features of an armchair include;
Size: You should choose your armchair depending on your size and also consider the fact that you might have guests who are bigger or smaller than you. An armchair should also have the ideal depth and width. The footrest positioned should also be well inclined to ensure maximum comfort. Also, ensure that your armchair fits perfectly in your space without making it look too cramped.
Style: Your style and personality should guide your choice of an armchair. Your armchair should match with the rest of your decor so you can achieve a brought-together look in your space. This doesn't mean that you can go a little crazy, just ensure that it's not too much. Colors are allowed to clash but it takes a professional interior designer to bring out such designs.
Fabric: The choice of fabric for an armchair should also be guided by your sense of style and your desired level of comfort. You should also consider your family setting if you are purchasing for your home. If you have toddlers who will most likely spill food and drinks on the chair then you might want to consider going for an easy to wipe fabric like leather. However, pets can also be destructive of leather seats so it is a good idea to invest in seat covers to protect your fabric. Some of the most common fabrics for armchairs include velvet, leather, linen, vinyl, cotton, wool, silk, and nylon.
Common Applications of Armchairs
Homes: Armchairs are widely used in homes as single decorative pieces or a whole set of sitting chairs. They are commonly used in living room areas and for outdoor spaces like the patio. Some people also strategically place armchairs in their bedrooms to sit while reading a book before bed or for early morning coffee.
Another common place where you will find an armchair is a nursery. They are comfortable, and new mothers can use them for breastfeeding sessions or just sit and relax with their new baby. A high back recliner armchair is perfect for this purpose.
Hospitals: The most common areas where you will find armchairs in hospitals are the waiting areas and doctors' offices. Wards are also equipped with armchairs for patients' visitors to sit and spend some quality time with their loved ones.
Restaurants and Hotels: Restaurant armchairs are usually designed to show sophistication and class of the hotel. Armchairs are placed in dining areas, lounging areas, and hotel rooms to ensure that customers are comfortable. You will mostly find antique high back armchairs in hotel rooms and entertainment areas. Depending on your preference and your client base, you will be able to choose the best type of armchair for your hotel.
Types of Armchairs Based on Materia
Armchairs are classified into different categories depending on material, design and level of comfort. When you are looking for the best armchair to suit your needs, you should analyze all the different types of armchairs before making a final decision. If you feel like nothing in the market fits with your style or brand, you can always ask your armchair manufacturer to design bespoke armchairs for you. Let us have a look at the different types of armchairs based on material.
Plastic Armchairs
Source: Unsplash
Plastic armchairs are made out of synthetic or semi-synthetic materials with polymer as the main element. Plastic armchairs are commonly used in outdoor spaces but can also be found indoors. They are widely used in restaurants and other recreational areas. You will find them in public areas like parks and halls as well as schools and daycare centers. Plastic armchairs are the most common types of armchairs due to their simplicity and availability. Let us have a look at some of the pros and cons of plastic armchairs.
Pros
They are lightweight and easy to move from one place to the other.
Plastic can be molded in different designs, so you can find a variety of designs for plastic armchairs.
They are stackable armchairs hence very easy to pack and store away.
Plastic armchairs are long-lasting and do not require upholstering every now and then, compared to wooden armchairs.
They do not break; you do not have to worry about breaking a plastic armchair when it falls.
They are more affordable since plastic is easy to find and it is a cost-friendly material.
Plastic armchairs are also available in a variety of colors making them an easy choice for events and themed parties.
They are weather resistant. Plastic armchairs can be used out in the rain, but they will not get damaged. They also react to moisture hence no rusting.
Plastic is recyclable, so you can always recycle your plastic armchair and use the material to make something else.
Cons
They lack elegance and sophistication; therefore, plastic armchairs cannot be used in certain setups like offices and five-star hotels.
If not recycled, plastic is very dangerous to the environment since it does not decompose easily. Therefore, avoid throwing your plastic armchair in the garbage, recycle, reuse and reduce waste.
If molded incorrectly, plastic armchairs can come out weak and therefore break when they carry a lot of weight.
The harmful fumes released into the atmosphere during the manufacture of plastic armchairs is dangerous to the ecosystem.
Wooden Frame Armchairs
Source: Unsplash
Wooden frame armchairs are also very common and are mostly used in homes and hotels. Most vintage high back armchairs are made out of wood. Wood is elegant and used in high-end setups to show class and style. In home settings, wooden frame armchairs are commonly found in the living room area, bedroom and out in the patio or deck. They are also used in the dining area for family mealtimes. Some of the advantages and disadvantages of wooden frame armchairs include;
Pros
They are attractive and elegant and can be used as decorative pieces. Wood carvings can be made on them to enhance their beauty.
Wooden frame armchairs are easy maintenance in that they are easy to clean and can be used in adverse weather conditions like cold summers and extremely hot summers.
Wooden frame armchairs come in a variety of sizes, designs, and patterns that gives you a wide range of choices to select from.
They are strong and durable and can withstand long-term use without wearing or tearing.
Wood is renewable, which makes wooden frame armchairs an eco-friendly choice.
Cons
In comparison to other types of armchair materials, wood is quite expensive and hard to find.
Wooden armchairs are vulnerable to water and might start to rot when exposed to water for extended periods of time.
The beautiful finishes of wooden armchairs can easily get damaged when exposed to sharp objects.
They require a lot of skill and technique to make, and you require a talented craftsman to come up with the best designs for you.
Wood can also change color when exposed to the sun for long periods of time. So always ensure your wooden frame armchairs are under a shade when outdoors.
Metal Frame Armchairs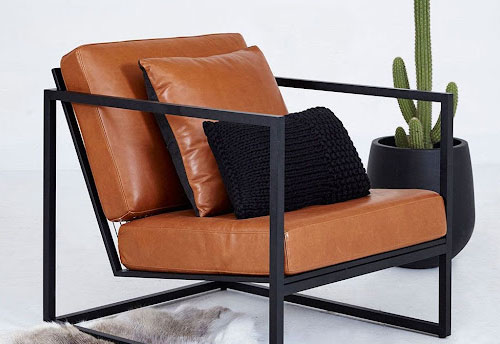 Source: Pinterest
Metal frame armchairs are made from metal parts. Iron and steel are the most common types of metal that are used in the making of metal frame armchairs. Metal armchairs are used for office furnishing and outdoor area furniture. Cast iron metal frame armchairs are especially preferred for outdoor settings due to their resistance to corrosion even when exposed to the harshest of conditions. Some of the pros and cons of metal frame armchairs include;
Pros
They are durable and remain in good state throughout the seasons. Metal frame armchairs can last up to 30 years if you take good care of them.
Metal frame armchairs are resistant to scratching by household pets and pests.
Metal frame armchairs also come in different designs and styles and can also be used as decorative pieces.
They do not take up a lot of space when arranged nicely.
Metal frame armchairs are quite affordable too.
Cons
They are quite heavy and difficult to move around.
When left in the sun for a long time, metal frame armchairs absorb a lot of heat and can burn you if you sit without cooling it off.
Metal frame armchairs can damage your floors if you are not careful. Consider putting a rug beneath them to protect the floor.
Rattan Armchairs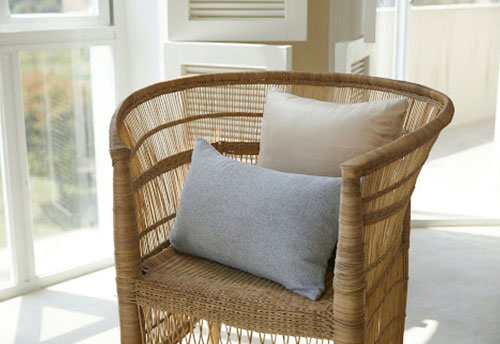 Source: Unsplash
These are made from rattan vines which are woven together to form an armchair. Rattan armchairs are commonly used for outdoor spaces, especially during the summer. They are perfect for home and hotel room patios and are used in office terraces too. They are fancy and sophisticated hence giving a space a stylish look.
Pros
Rattan is a sustainable material therefore making a rattan armchair an environmentally friendly option.
Rattan armchairs are affordable since rattan grows back very fast after being cut.
They are weather resistant and can stay out in the sun for long periods of time without getting ruined.
Cons
Rattan armchairs are not the most comfortable sitting option.
Rattan wears off after some time.
Rattan armchairs require a lot of care to ensure that they stay in good condition.
Leather Armchairs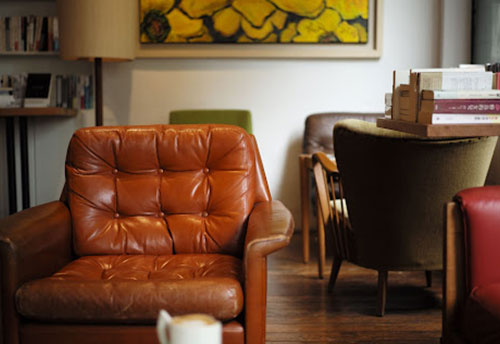 Source: Unsplash
Leather is obtained from the tanning of animal skin and used to make different types of products including leather armchairs. Leather is a very strong, flexible and durable material that can be used to make different designs and styles of armchairs. Leather armchairs are commonly used in home setups, mostly indoors. The pros and cons of leather armchairs include;
Pros
They are classy and sophisticated.
Leather armchairs are durable and easy to clean.
They are very comfortable and ideal for your living room area.
Leather repels dust hence making leather armchairs a hypoallergenic option.
Cons
Leather armchairs are very expensive.
Leather is prone to damage by pets and children.
No variety in color choices
You might end up with faux leather armchairs if you do not know how to ascertain real leather.
Faux Leather Armchairs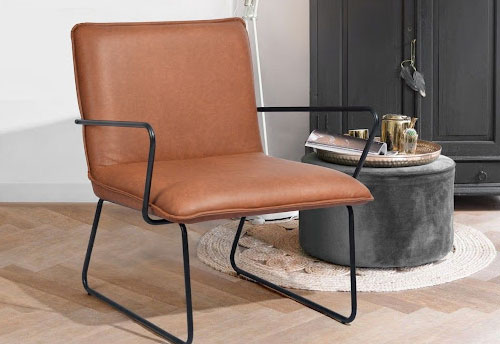 Source: Pinterest
Faux weather is simply a second-grade leather solution. Faux leather does not come from animals but you still get to enjoy the feel of leather, even though it's not real. Faux leather armchairs are relatively cheaper in price in comparison to real leather armchairs. They are prone to faster damage and are not as durable.
Types of Armchairs Based on Back Design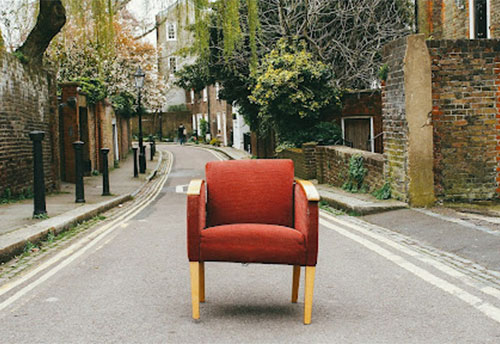 Source: Pixabay
Apart from material type, armchairs are also categorized according to design. There are different types of armchairs with different types of designs that fit specific setups. The major designs for armchairs include high back armchairs, low back armchairs and wingback armchairs. Let us have a look at some of these designs in detail.
High Back Armchairs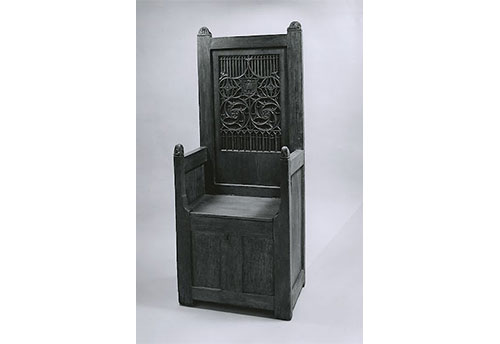 Source: Pinterest
High back armchairs have tall backs that enhance comfort when sitting on them. A high back armchair is particularly a perfect fit for living room areas where they can be strategically placed to accentuate the room. You can just have two high back armchairs next to the fireplace in your living and place a small table on the side. This can be your evening resting spot after a hard day at work.
A high back armchair is ideal for large rooms with high ceilings. Placing high back armchairs in a small room can make a space look overly cramped. High back armchairs are super comfortable and they add elegance to a room. A high back recliner armchair is an excellent addition to the patio or a baby nursery.
Low Back Armchairs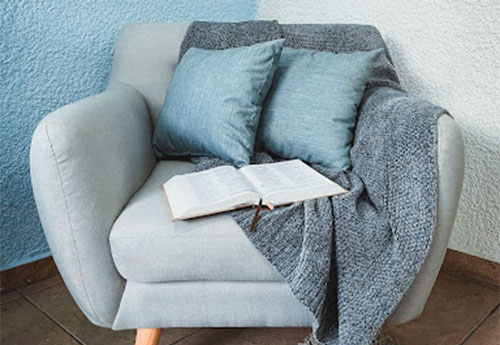 Source: Unsplash
Low back arm chairs are particularly a good fit for modern setups as they add elegance and sophistication to a room. The most common type of modern armchairs currently are chester seats. They can be found in homes and entertainment areas such as lounging bars and restaurants. Low back arm chairs can fit in not very large rooms as they do not take up a lot of space. Low back arm chairs may not be a comfortable choice for tall people but can offer lasting comfort for shorter individuals. You can have several low back armchairs in a space and add a few pieces of high back armchairs.
Wingback Armchairs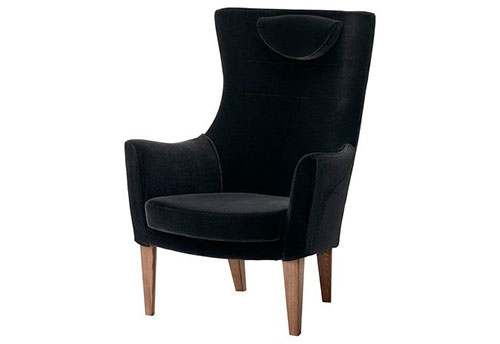 Source: Pinterest
A wing back armchair can either be a low back or a high back armchair but with a fancy wing-like design at the sides. Wingback armchairs were traditionally used fireplaces as they would trap the heat to keep the occupant warm. High back winged armchair is an excellent addition to your living room furniture and they can be used also as decorative pieces. There is no better place to enjoy your evening coffee than on your wingback armchair next to your bedroom window or on your patio.
Types of Armchairs Based on Design Styles
In addition to the material type and design, armchairs are also classified according to style. The major armchair styles that we will discuss in this section include modern contemporary armchairs, traditional vintage armchairs, mid-century armchairs, and chesterfield armchairs. Let's get into it.
Modern Contemporary Armchair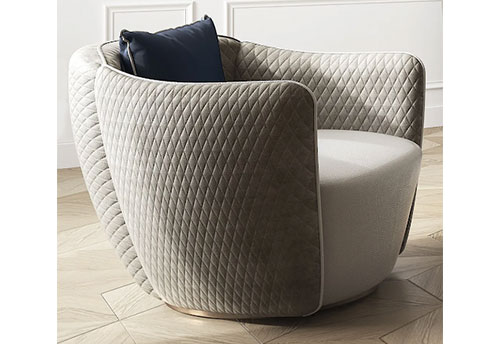 Source: Pinterest
Modern contemporary armchairs are designed to go with modern trends. We can basically define them as 'in fashion armchairs'. They are made using modern materials and fabric and given modern designs. Modern contemporary armchairs have sharp and angular edges and not the usual curved designs we see in other armchairs. They also come with slimmer wooden legs, which is the current trend for most types of chair designs.
They are ideal for living rooms and can also be used in other rooms of the house, such as the bedroom and the patio. Various armchair manufacturers include removable seat covers in the package to make your work easier.
Traditional Vintage Armchair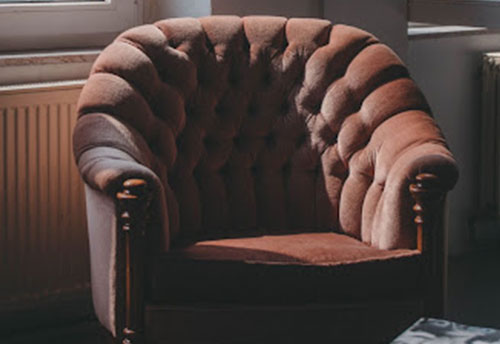 Source: Unsplash
These are armchairs that are created to match traditional designs that are at least 20 years old. It takes skill and excellent craftsmanship to be able to bring back traditional vintage designs of armchairs. Some of the common features of a vintage high back armchair include button detailing and wooden legs. Vintage armchairs are mostly used as decorative pieces and are commonly referred to as antique pieces. You can also tell an upholstered high back armchair by keenly analyzing the material used to tell its age.
Mid-Century Armchair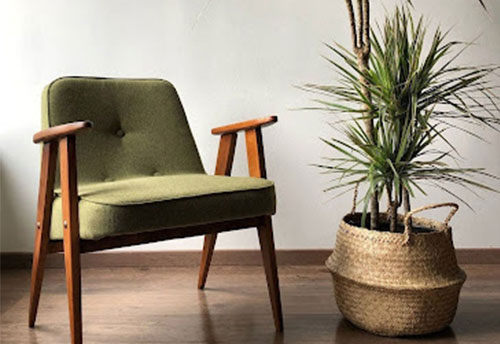 Source: Pinterest
A mid-century armchair is a fantastic way to bring your mid-century themed decor together if you're a fan of mid-century design. They also look wonderful on their own, making them a great choice for bedrooms and hallways. A mid-century armchair has a bucket, rounded shape with curved type arms and backrest, and has significantly lower backs than many earlier styles.
Chesterfield Armchair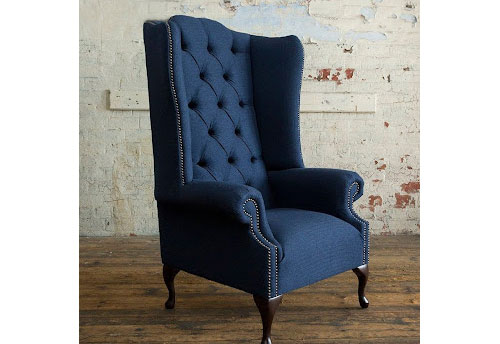 Source: Pinterest
A Chesterfield armchair is another traditional and all-around favorite. A chesterfield armchair, like the iconic Chesterfield couch, has a buttoned back and broad, graceful scroll arms. Because it's a considerably larger chair than many simpler designs, it needs adequate room to breathe on its own. You can choose different types of fabric for your chesterfield armchair including velvet, leather, linen and cotton. Chesterfield armchairs are commonly used in homes and recreational places such as bar lounges.
Things to Consider Before Buying Armchairs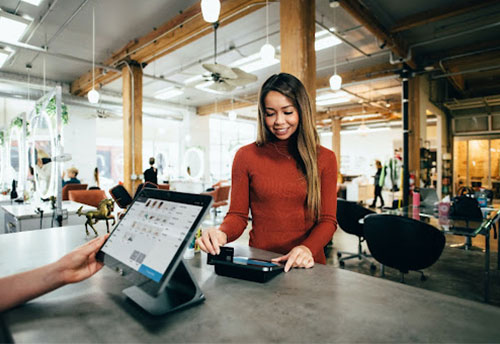 Source: Unsplash
Just like any type of purchase, there are factors to consider before you purchase an armchair. These factors majorly depend on your intended purpose for the armchair. An armchair is a piece of furniture that you will use for a long period of time, so you should take your time to analyze the different types of armchairs before you settle on one. Also, note that you are not tied to one particular type of armchair; you can mix up two or even more different types of armchairs since you will be using them for different rooms. Some of the major factors to consider include;
Style and that of the space: If you are a lover of traditional style of furniture, then you should consider going for chesterfield armchairs or vintage high back armchairs. Or if your customer base is mostly young, you should know more about modern armchairs.
Comfort: Some armchairs are more comfortable than others. If you are more focused on comfort then a high back armchair is the perfect choice for you. They allow you to rest your back completely, and you can even enhance your comfort by investing in a high back recliner armchair where you can comfortably lean back and swing back and forth. You can ask your armchair manufacturers to include a footrest on your armchair for maximum comfort.
Materials: The type of material used to make an armchair speaks a lot about it. Wooden armchairs create a sense of elegance and style, while plastic armchairs might appear basic and plain. Some materials such as metal are easy to maintain and can withstand harsh weather conditions. Depending on the purpose and location of your armchair, you will be able to choose the kind of material you want for your armchair.
Upholstery: This is simply the fabric used on an armchair. Leather armchairs are classy and sophisticated and are ideal for the living room. They are easy to clean and are very long-lasting. The type of fabric for an armchair largely depends on your sense of style and budget.
Budget: The price of an armchair is determined by the type of material, fabric, design and style of the armchair. Wooden frame armchairs are generally more expensive than plastic or metal frame armchairs. Leather armchairs are also costlier than linen or velvet armchairs. However, depending on whether you are making a single purchase or wholesale armchair purchase, you will be given the best price by your armchair supplier.
Where to Buy Different Kinds of Armchairs
There are different options for where to buy different types of armchairs. These options mostly depend on the volume of your purchase, whether you are buying wholesale armchairs or buying single pieces for home use. Wholesale armchair purchases are usually made separate from retail purchases, and they are mostly meant for b2b buyers. Let us have a look at the different places where you can buy armchairs categorizing b2c purchases and b2b purchases.
B2B means business to business, which basically refers to buying armchairs for business setups such as offices, hospitals, restaurants, and hotels. The best way to go about such purchases is to get in contact with the arm chair factory directly. This way, you will be able to give your specifications and ask for bespoke armchairs to fit specific brands.
Buying online stores will not give you many options to choose from, and you might also not get the quantity that you require. B2B armchair purchases can also be from wholesale armchair suppliers to retailers. If you are a retailer then it is probably best if you buy from the manufacturer directly so you can be able to get wholesale prices which will give you room to make profits when you sell to the end-user. You can also ask for bespoke armchairs based on what the majority of your clients usually ask for or the market demand.
The end-user can be a homeowner or even a business owner. The list of places to buy furniture for users is endless. Depending on your location, you can always find a furniture store and purchase your armchairs. You can also buy online and have your armchairs shipped to you. You can buy your armchair in the following stores globally;
IKEA: IKEA is a Swedish company that retails furniture from different manufacturers. This company stocks all the different types of armchairs among other types of furniture for you to choose from. IKEA sells stylish, innovative, and affordable armchairs. Shipping costs range from around $6 to $50 dollars depending on the size of your order.
Home Depot: Home depot pretty much stocks everything to do with home decor. You will be able to find the different types of armchairs to fit different areas in the home, including the living room, bedroom, outdoor areas, and hallways. You can either shop in-store or online and have your order delivered to you.
Amazon: Amazon is the internet's largest retailer. Almost all manufacturers, wholesalers, and retailers sell their products on Amazon. You can find budget-friendly and quality armchairs on amazon.
Walmart: For basic types of armchairs, Walmart is the best option for you. You can also find accent armchairs at affordable prices in Walmart stores. Walmart offers free local shipping, and returns are allowed in case you are not satisfied with the furniture delivered.
Conclusion
As we have established in this blog, there are different types of armchairs, and you should be very keen on the type that you settle on for your home or business setups. If you are not sure about the type of armchair that fits your space, you can always consult an interior designer to help you choose and even organize your space for you. Check us out here for more information on the different types of armchairs and other furniture types.