Dining tables come in several different styles and designs starting from traditional and rustic to modern and contemporary. Every customer looks for a different style that matches their dining area aesthetic. As a dining room table sets supplier, you must have all the knowledge about the different types of dining tables that your clientele might like.
After reading our complete guide to dining tables you'll be ready to make an informed choice about what type, style, and size dining table is ideal for your brand.
Modern/contemporary dining table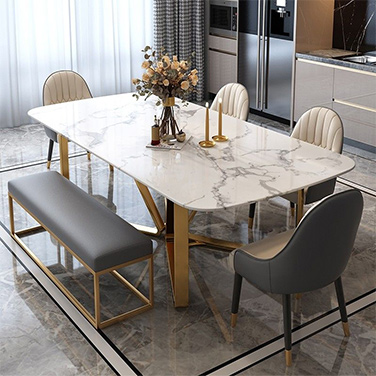 Features of this style
With clean lines and precise angles framing minimalist surfaces, the modern style reflects an elegant balance of practicality and aesthetics that blossomed beginning in the twentieth century. The modern dining table adds a light, breezy touch to any space. The use of neutral and strong hues, as well as textures and statement-making materials, are prevalent in contemporary design.
Straight lines and geometric shapes are common in modern design. Modern table legs are generally straight or tapered, while modern table tops come in a variety of geometric shapes, such as round, oval, square, rectangular, or even hexagonal models.
Common materials and design
Contemporary dining room tables are influenced by previous furniture design trends, but they never try to duplicate them. They can be made of any material or a combination of materials, such as plastic, metal, wood, or stone. Solid wood, stone, or marble tops are frequently coupled with steel legs for a modern-looking design.
Applications
Modern dining tables often find good use in:
Buildings/houses
Offices
Shopping malls
Restaurants
Hotels
Mid-century dining table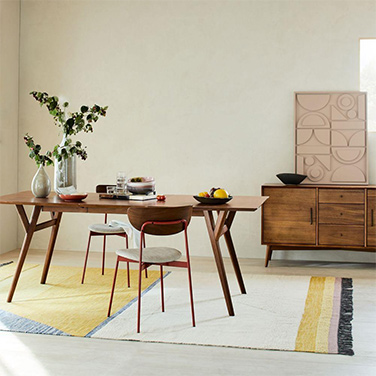 Features of this style
In recent times, mid-century modern dining tables have truly come into its own as a design element, and it appears to be particularly popular among city inhabitants.
Mid-century contemporary furniture has several distinctive features:
The table has a lot of clean lines and simplistic designs.
Teak is a particularly popular material for making such tables
The "floating" effect of many mid-century items is due to the use of short legs, some of which are severely tapered.
The mid-century modern style's minimalism did not come at the expense of aesthetic attractiveness. Geometric prints are prominent in tables and from the mid-century modern era.
Common materials and design
Using a mix of natural and man-made materials is often the characteristic of mid-century tables. Following WWII, designers had access to a plethora of new technology and materials. As a result, they were able to combine classic solid wood with synthetic fabrics such as nylon or rayon, or completely avoid wood in favor of fiberglass and Plexiglas, as seen in today's dining sets.
Applications
Mid-century dining tables often find use in:
Voguish houses
Vintage cafes and restaurants
Theme-based hotels
Shopping malls
Coffee houses
Rustic dining table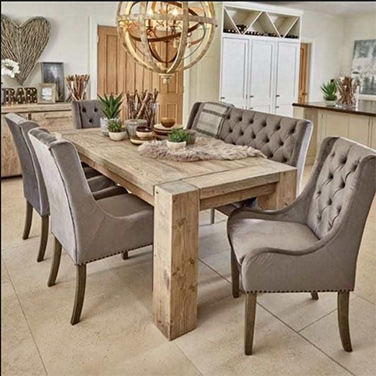 Features of this style
Rustic decor frequently contains intended faults, fading, or wear and tear in order to feel sturdy, reassuring, and warm. They look like they have been obtained from a royal palace many ages ago. Rustic tables are characterized by roughness and a willingness to let natural beauty shine. Rustic allows the spirit of each piece to shine through rather than worrying about flawless lines.
The rustic style's natural features are mixed with a clean-lined contemporary design for a fresh, bright, and grounded feel. Rustic decor is typically heavier, darker, and less sparse, so combining the two styles of rustic and contemporary results in something light and airy, yet extremely natural.
Common materials and design
The emphasis is on using wood, stone, leaves, and other organic components to create a rustic masterpiece. Natural resources are also common, so you'll see more recycled and unpolished woods and stones than slick, glossy burl wood.
The color palette of rustic dining table designs leans largely toward neutral, but boldness is allowed as long as earthy tones are used. Greens, browns, and grays are common, with a preference for warmth to avoid feeling too cold and harsh.
Applications
Rustic dining tables are used in:
Traditional houses
Locations with low temperatures
Restaurants
Hill-top hotels
Japanese dining table
Features of this style
Japanese tables are only 27 inches tall, which entails that individuals of all ages should either sit on the floor or utilize cushions to eat comfortably at a regular dining table. Because these tables are so low, there are no chairs surrounding them. To increase comfort, the table is placed on a fluffy, soft-textured area rug.
However, Japanese dining tables may not always be so low. It can be placed in a nook and surrounded by low benches to suit the westerners.
Common materials and design
Natural materials such as bamboo, exquisite woods, silk, rice straw sheets, and paper are used in the Japanese tab. It skillfully combines modern elements with the traditional Japanese style. As a result, the furniture is simple, comfy, and versatile.
Applications
Japanese tables often find use in:
Asian households
Sushi bars and restaurants
Asian-themed hotels
Scandi style dining table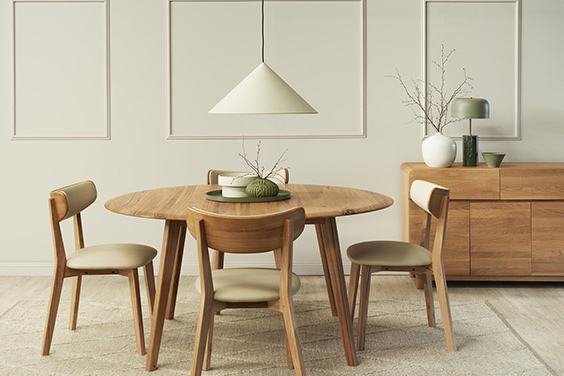 Features of this style
The concentration on three primary concepts of Scandinavian design and style are Clean lines, utility, and simplicity. For its sensible balance of utilitarian design and aesthetic form, a Scandi style dining table has grown highly popular around the world. Neutral-colored dining tables in light brown, white, or black are common in Scandinavian dining rooms.
Common materials and design
Natural materials abound, including wood, leather, linen, and wool, all of which have been influenced by the Nordic landscape are found on Scandinavian dining tables. What's not to like about natural light, airy, friendly, and warm?
Applications
Scandinavian dining tables are used in:
Places with a cold weather
Rustic diners and restaurants
Traditional houses
French country dining table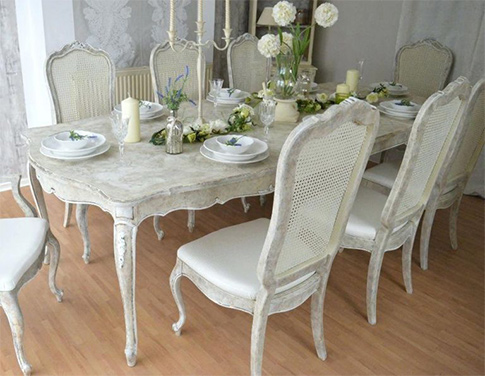 Features of this style
By their very nature, French country dining tables are rugged and farmhouse-friendly. They're usually made of wood and have a feminine, European design. French country sets, whether antique, vintage, or handcrafted, may make a magnificent style statement for your company.
Neutral hues are a feature of this design approach, so pastel colors or highlights are unlikely to appear in many French country dining sets. Select rectangular French country tables with benches rather than dining seats for a truly country feel, with an extra leaf for large families.
Common materials and design
The majority of French country dining tables are made of wood, which sets a warm, earthy tone for the rest of the furnishings. In certain cases, the entire table is handmade from wood materials, for less-expensive pieces. Wood is featured as secondary or additional material in others, but it still frames the table's appearance.
Applications
French country dining tables are used in:
Farmhouses
Houses with a huge backyard
Building gardens
Open restaurants
Boho dining table
Features of this style
Bohemian design is characterized by a lack of organization, favoring carefree layers of color, texture, and variety instead. Although there are some common behaviors associated with the bohemian tables, unlike the modern or minimalist looks, there are no hard and fast laws. Personality and relaxation are at the heart of the bohemian dining tables.
Common materials and design
Mixing and blending natural materials is the most important aspect of attaining a bohemian look. As a result, bohemian dining tables frequently have a lot of wood, rattan, and flora.
You may find pieces or an entire area devoted to the bohemian-style decor in almost any furniture store these days. The way to stand out from those stores is to get different dining table styles to appeal to every type of customer.
Applications
Boho dining tables often find use in:
Houses
Cafes and restaurants
Resorts
Malls
Craft centers
Farm style dining table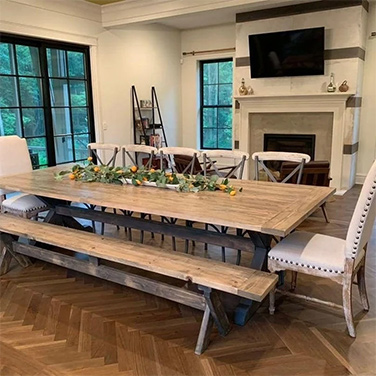 Features of this style
In general, a farmhouse dining table is a large, warm, and inviting choice. This style goes well with rustic decor and gives off a warm and cozy vibe. It gives a rustic, vintage-inspired touch to any dining area, making people feel like they've stepped into an old country farmhouse. Farmhouse tables are also known for being extremely durable, as they are typically built of rough, solid wood.
Common materials and design
Large dining tables are best suited for wood of that size since massive boards with rustic accents are popular in farmhouse furniture. Refurbished wood, such as pine and oak, is a common choice for a farmhouse table with a unique character. Other woods, such as maple or fresh pine, will give the table a classic farmhouse style without the need for distressing or other rustic elements.
Applications
Farm style dining tables are used in:
Farmhouses
Houses with huge garden space
Open restaurants
Resorts
Industrial style dining table
Features of this style
The term "industrial style" refers to no-frills, no-fuss decor that is inspired by the soaring appearance of warehouses, factories, and other industrial facilities. Industrial-style tables are usually durable and can be found in reclaimed yards.
Large-scale, low-profile tables with strong and clear lines are typical of industrial design furniture. Above all, it's devoid of any patterns. Colors are typically neutral in industrial style, as they are in modern style. You'll mostly be working with grays, browns, blacks, and whites.
Common materials and design
Rather than hiding the materiality, this approach tends to emphasize it. Metals such as stainless steel, iron, aluminum, and copper can be used. Other materials include unfinished or salvaged wood, glass, concrete, and fabrics.
Applications
Industrial dining tables are often found in:
Offices
Shopping malls
Lounges
Conclusion
A dining table, like any other piece of furniture, can be manufactured from a number of raw materials. Custom dining tables in various forms might be a turning point for your brand when it comes to table sets. Because a dining table is such a large investment, you want to be sure it matches your brand's aesthetic and meets your customers' needs.
Seek out a reliable furniture manufacturer that offers different dining table styles for the best selection of dining tables.