You might be feeling a bit bewildered if you're considering purchasing furniture from the dining chairs manufacturer. Dimensions, color, materials, design, and budget are all factors to consider. There are several aspects to consider, as well as numerous designs from which to pick. Don't be concerned. This dining chair buyer's guide includes tips, methods, and insights to help you answer all of your inquiries about dining chairs.
It all starts at the dining room table. We're guessing your new dining chairs are either for existing tables or were purchased at the same time. The way the seats engage with your dining table might influence a lot of your choices.
The Basics of dining chair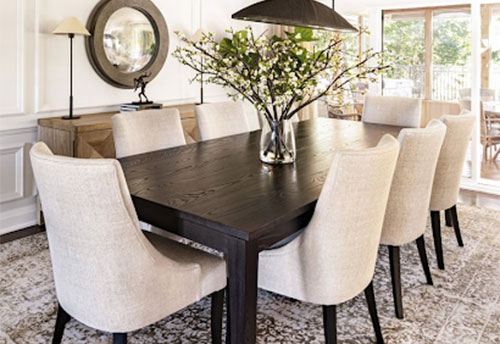 Source: Pinterest
What is a dining chair?
It's a chair at a dining table intended for usage during mealtimes. Thanks to various styles of designs, dining chairs are also suitable for more scenarios like homes, hotels, banquet halls, and some office areas.
Dining Chair Parts and Structure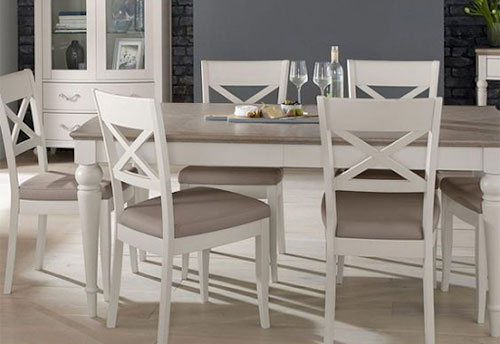 Source: Pinterest
The structure of a dining chair, which is commonly found in a kitchen or restaurant area, is pretty simple. Some dining chair patterns, such as those with arms, maybe a little more complicated than others. A dining chair, on the other hand, is usually basic in design.
This is the top back support railing that connects the stiles of a dining chair.
This is the rear and stile reinforcement rail in the middle. There are many cross rails on certain dining chairs.
The upper rail of the hurdle projects over the apex of the stile.
These are the perpendicular support parts, which are commonly back chair leg extenders.
This is where you will sit in the chair.
This is the forepart bracing component that holds the seat in place and connects the front legs.
The chair's legs provide stability and elevation to the seat.
This component provides extra structural support by tying the chair legs collectively.
Guide to Dining Chair Size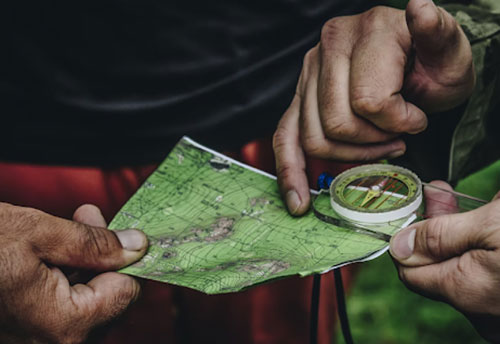 Source: Unsplash
The normal dining chair height is 32 to 34 inches, with a seat height of 18 inches above the floor. A dining chair's normal width is 16 to 20 inches. When you are planning to buy a dining chair, these dimensions guides will help you.
1. Dining Chair Height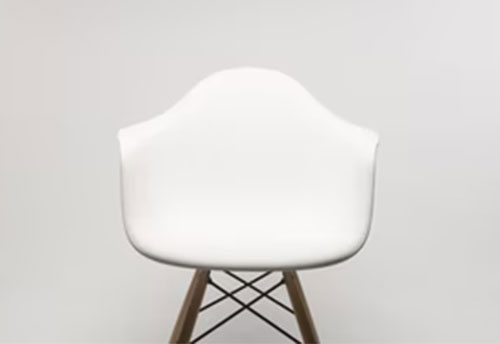 Source: Unsplash
When it comes to dining chairs, the total chair height is less important than the chair seat height. The distance between the floor and the peak of the chair's seat is one of the factors that determine whether a chair can fit properly beneath a table or countertop.
The two most typical seat heights for dining chairs are 18″ – 23″ and 24″ – 26″. Since chairs are most commonly coupled with these most popular forms of tables: conventional-height tables that are 28″–30″ high or refute-height tables that are 34″–36″ high, this is the case. We propose that all tables include at least 12 people "Between the seat of your chair and the countertop, there should be plenty of room. There should be 7 people at your table if it has an apron "the distance between the seat's peak and the apron's underside.
Counter-height table tops require chairs with seats that are 24″–26″ high, whereas standard-height tables require chairs with seats that are 18″–23″ high.
The arms of your chairs should be able to easily glide beneath your dining table. Choose a dining chair with at least 7″ between the chair arm and the table's underside or apron.
2. Dining Chair Width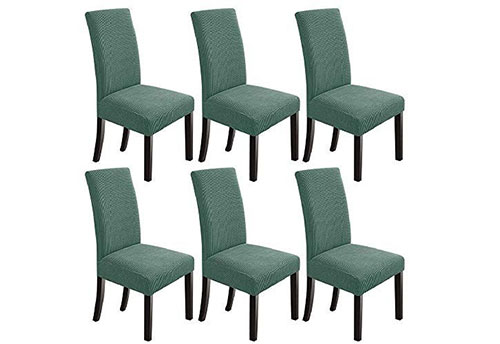 Source: Pinterest
The normal dining chair width is an average of 18 inches. To determine the dining chair size to purchase, keep in mind that each visitor should have 24 seats "– There is 26″ of eating area and 6" between chairs to provide elbow room for getting in and out of the table. To determine how many chairs to purchase, divide the length of your table in inches by 32 ".
Arms can also increase the total width of a conventional dining chair by a few inches. If you're short on room, go for armless dining chairs or choose dining chairs with arms just at the top and base of the table.
Dining Chair Materials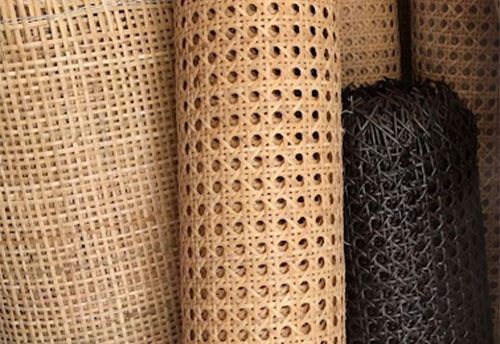 Source: Pinterest
Natural materials for dining chairs include woods, cane, rattan, plastic, leather, and a variety of other materials. Materials serve the design style. Therefore, we can often see that luxury dining chairs are made of leather. Plastic dining chairs are often for leisure or outdoor venues.
Upholstery of Dining Chair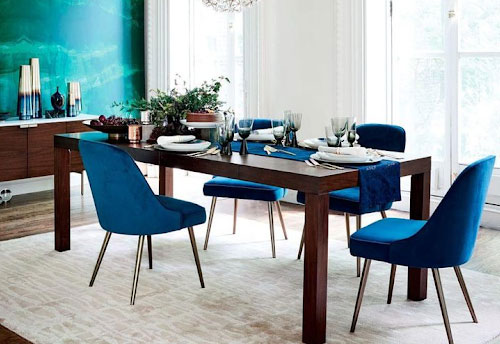 Source: Pinterest
Allow your pragmatic demands to guide you while you browse for upholstery fabric. First, think about your lifestyle and who will be using the piece. This will assist you in determining the type of material to use. Furniture in high-traffic places, such as family or living rooms, should be made of durable textiles, whereas furniture in low-traffic areas, such as a bedroom couch or headboard, can be made of any type of fabric.
Types of Dining Chairs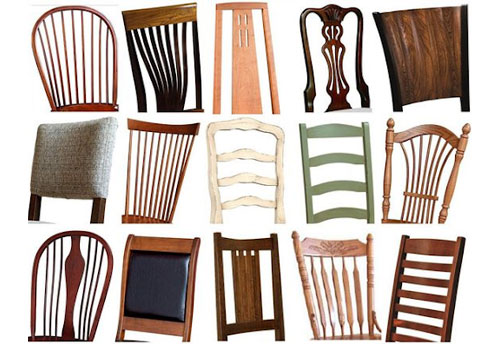 Source: Pinterest
The seat dictates coziness and aesthetic appeal, and it can be made of distinct materials than the body of the chair to produce a certain look.
Choosing various parts for the seat offers a dining chair the perfect finishing touch to match your dining room decor. The different types of dining chairs include:
1. Upholstered Chair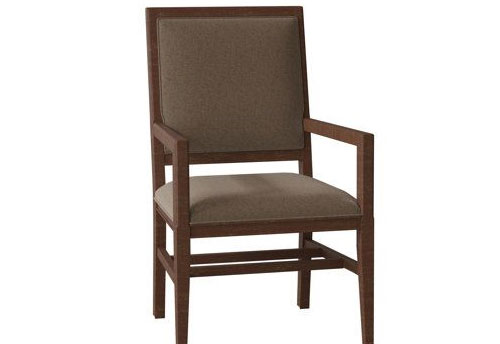 Source: Pinterest
Upholstered seats give cushioning for a soft and comfy chair, and the fabric choice contributes to the room's décor.
Consider the type of use the chair will receive while selecting the material. If the chair is used regularly by youngsters, a stain-resistant fabric, such as a cotton mix, will last longer and be easier to clean. Stains can be hidden with ornate materials.
2. Metal Chairs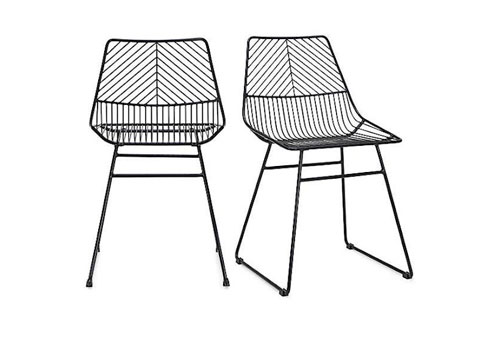 Source: Pinterest
Metal chairs have a rustic and art-deco feel to them, but they may be rather chilly to sit on. Additional cushioned seat cushions can be utilized with ties to secure them on the chair, and these chairs are commonly covered with a solid cover or ornamental vinyl or plastic.
3. Plastic Chair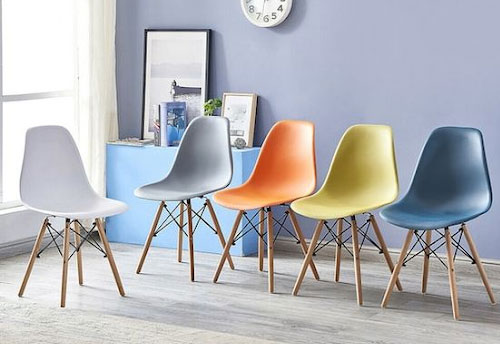 Source: Pinterest
Plastic chairs are difficult to surpass for their simplicity of cleaning and basic design. These chairs are durable, beautiful, and can tolerate spills, crumbs, dirty clothes, and extended usage.
4. Wicker Chair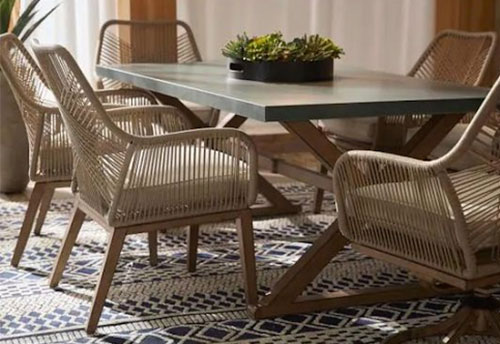 Source: Pintereset
Wicker is attractive and durable, and it's simple to maintain when coated with stain-resistant varnishes. Woven wicker chairs are soft and easy to clean with a vacuum attachment and a moist, soapy towel.
5. Leather Seats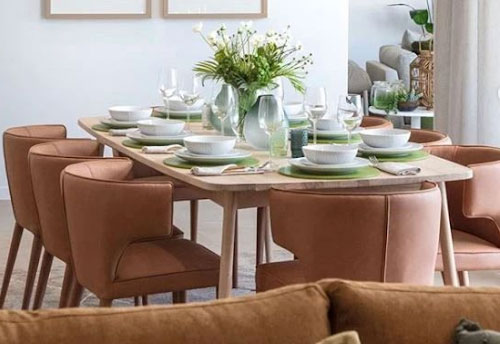 Source: Pinterest
Leather seats are classic, and when properly cared for using leather enhancers, they may endure a long time. Leather is simpler and straightforward to clean up after a spillage, and it is stain resistant as provided as it is not left to dry out and break.
Styles of Dining Chairs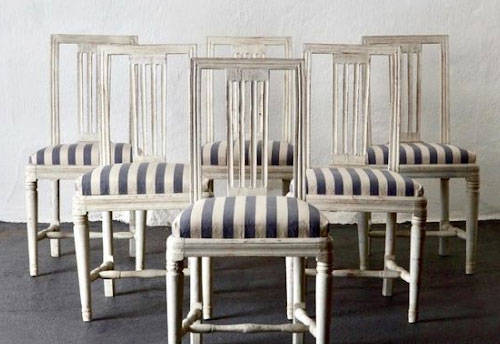 Source: Pinterest
1. Persons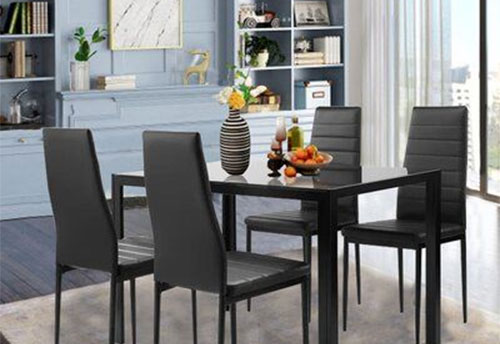 Source: Pinterest
Parsons chairs feature a straight back and no arms, however, they are upholstered. Parsons chairs, which are similar to side chairs but also have a clean-line design, first appeared in the dining chair sector in the early 1900s.
The purpose of the design was to keep the chair's convenience and functionality while removing the elaborate and historical influences. On a Parsons chair, any fabric or material can be utilized, putting the options open to fit the dining room design.
This basic chair looks great as a side chair for dining room settings and fits flawlessly in any room of the house.
2. Side Chairs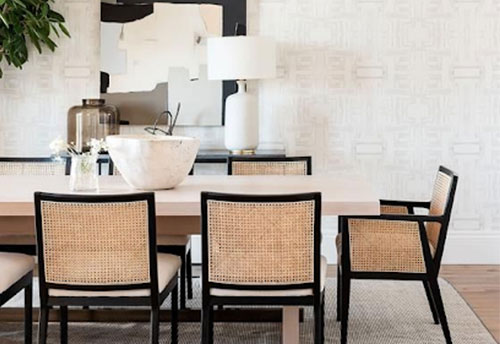 Source: Pinterest
Side chairs, which lack arms and are the most classic dining chair, have earned the title "dinnertime mainstay." The term "side chair" refers to a chair that is placed on the flanks of a dining room tabletop.
Based on the dining room's furnishings and table, side seats can range from informal to formal. When compared to armchairs, side chairs fit better beneath dining room tables with lower ends.
3. Arm Chair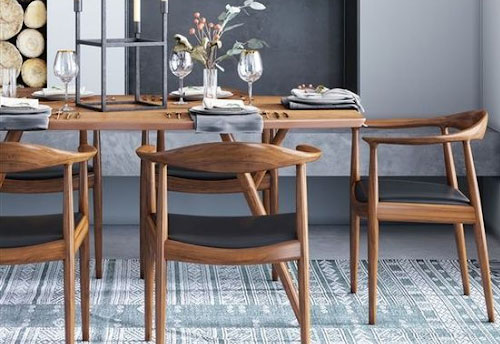 Source: Pinterest
An armchair has two arms, which can be linear pieces of wood or curving arms with artistic ends in a variety of diameters, depending on the design.
The arms are attached to the seat and the rear of the chair, which is usually straight. The seats of these bigger dining chairs are cushioned and cozy. If a dining room set comprises mismatched chairs, the armchairs are normally placed at the table's top and base.
4. Slope Dining Chair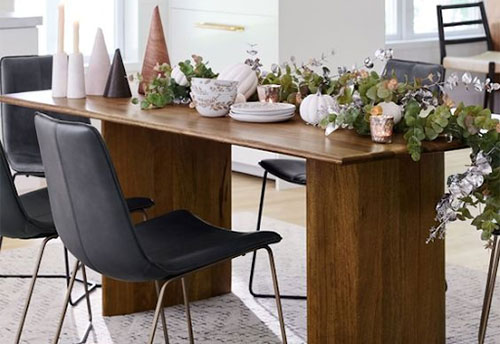 Source: Pinterest
For maximum comfort, the sloping dining chair has a broad seat and a shallow sloping back. An upholstered seat in practically any fabric, notably leather or synthetic leather, is featured in the elegant design.
The opulent design complements modern crude or factory interior design. An open back is available on certain sloping dining chairs.
5. Ladder Back Chair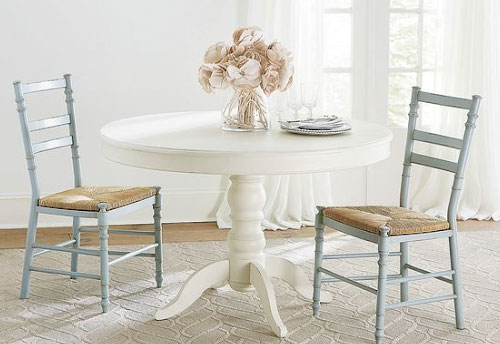 Source: Pinterest
Because the back is formed of parallel wood slats that resemble the tiers of a ladder, the ladder back chair is also referred to as a wooden slat-back chair. These traditional dining chairs are basic but sturdy enough to be used on a regular basis.
Despite the fact that ladder back chairs are more conventional, they nonetheless have a timeless position in dining chairs as contemporary furniture. Dining chairs with ladder backs are often constructed of wood with stained or painted textures.
6. Spindle Dining Chair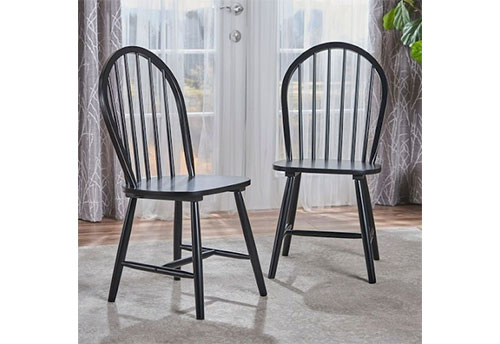 Source: Pinterest
The spindle dining chair, conceived by the Danish in the 1940s, is a utilitarian and ergonomic chair.  For coziness, spindle chairs have a polymer seat with a shallow dish depression.
The legs are distinct, round-tenoned hardwood legs that plug into drilled holes in the seat, as opposed to the neatline of a normal chair.
7. Windsor Chair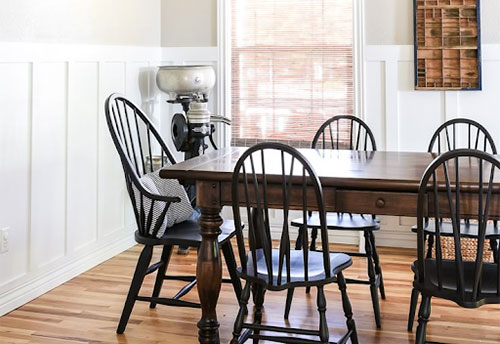 Source: Pinterest
The Windsor chair was developed by English furniture craftsmen in the English city of Windsor circa 1710.
The Windsor dining chair is made of wood, with several thin, carved spindles forming the back and sides. For extra coziness, the spindles are attached to a solid oak seat with a small, circular depression.
A Windsor chair's back leans back to some degree, and the upright legs, which are commonly spindles, turn out at an angle. Windsor chairs work well in classic, rustic, and antique settings.
8. Barrel Back Chair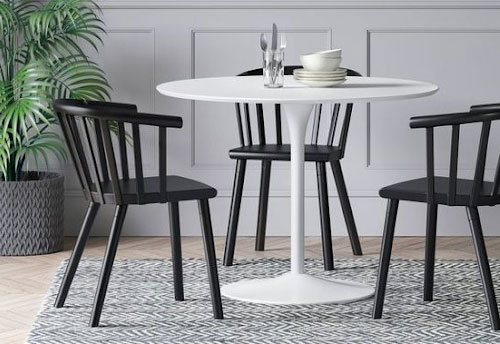 Source: Pinterest
The back of a barrel-back chair is dish-shaped, and the fabric is often plush and padded.
A few of these chairs spin, making them ideal for lengthy periods of sitting, such as at a festive feast. The chair's descending side serves as a nice armrest, and the opposing wooden legs that protrude offer it a sleek, modern vibe.
9. Wingback Chair
Source: Pinterest
The wings on the edges of the chair rise into the lofty back, giving it the moniker "wingback chair." They give every dining space a refined look and an appealing motif. The architecture of these beautiful chairs was motivated by a desire to keep drafts off folk's shoulders in the eighteenth century.
Ornamented wingbacks, high-back wings with a regular pattern, and lower-placed arms to suit a dining room table are among the styles available today.
Upholstered wingback chairs are available in a variety of materials to fit any dining room decor.
10. Cross Back Chair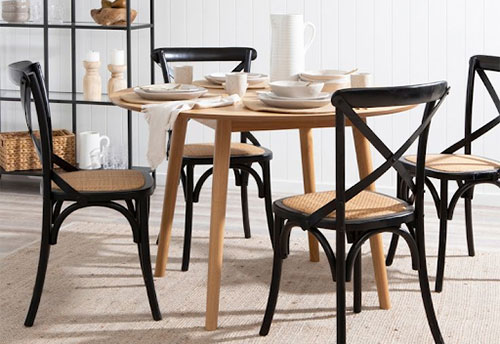 Source: Pinterest
The cross back chair has an x-shaped pattern on the rear for an open and light aspect that differs from ladder chairs or firm backed chairs. They make a terrific dining chair for a naturalistic and antique dining area with their curving legs and rattan seats. Cross back chairs, which are generally constructed of wood, are also available as classic and modern highlights for a dining area.
These dining chairs are durable, and their solid wood design permits them to support more mass than other sorts of dining seats.
Dining Chair Maintenance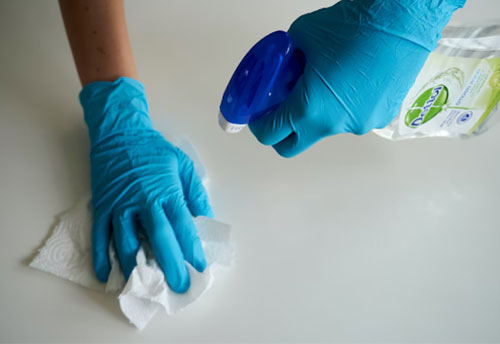 Source: Unsplash
The duration and effort you invest into wiping your chairs will be determined by two factors: the outcomes you wish to achieve and the fabric they're composed of. Let's go over the different sorts of chairs and how to wash them. Fabric for the upholstery: Vacuuming on a methodical basis can help to remove debris and minimize dirt marks from appearing on the cloth.
For coffee and tea staining, you can apply white vinegar, and for wine smudges, you can apply to rub alcohol. The idea is to use gentle blotting and spot testing. Fabric chairs should never be cleaned with bleach or ammonia. Velvet: Same as upholstered, but without vacuuming. In addition, remove stains with an upholstery detergent or dish soap and water.
After cleanup, a gentle brush can be used to recover the natural texture! For Faux leather: Clean your leather chairs utilizing dish soap and warm water and a soft, clean piece of cloth to remove any dirt or spills. Baby wipes can also be used to clean quickly. Of course, if you truly want to keep your seats in good shape, a faux leather varnish is the perfect next move.
Avoid leaving chairs in direct sunlight for long periods of time. If they are near a window, ensure the drapes or shutters are closed to prevent the fabric from being bleached by the sun. This might completely detract from the appearance of your chair, and you'll wind up with a mismatched pair! Ensure the bottoms of your chair legs are protected by floor guards.
Things to Consider Before Buying Dining Chairs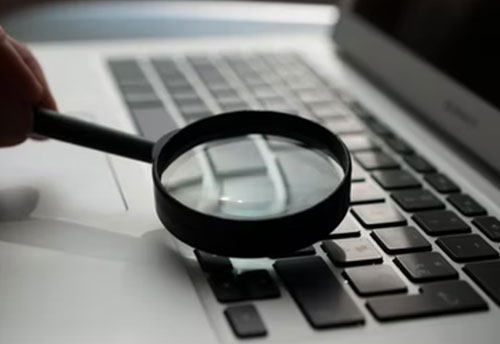 Source: Unsplash
1.The Style of Your Space and Dining Table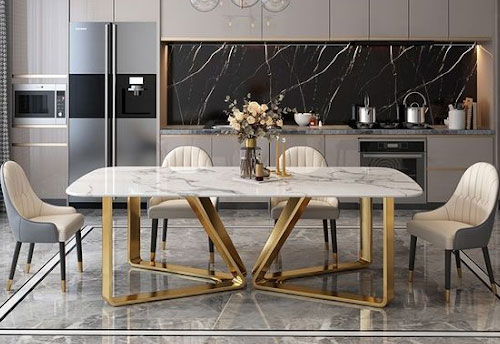 Source: Pinterest
Do you like a bold style or a traditional look? Do you want to go for a more current, modern look? In either case, select items that complement your chosen style.
Manufacturing dining chairs, on the other hand, are the next big thing if you want a more modern aesthetic. The options are limitless. All you need is a clear mental picture of what you desire, and everything else should fall into place.
It's time to bring ideas to life once you've created a preliminary sketch of the final outcome. The first step is to take measurements of the space.
2. Suitable Height
Source: Pinterest
You already know what kind of dining chairs you prefer – that's great! Now you must determine the table's height. Because not all tables are created equal, you should go into a retailer with your table height in mind.
This will enable you not just to verify that the chairs sit comfortably underneath the table, but also that your legs have adequate space to sit under the table top when you sit in the dining chair. Don't be scared to bring a tape measure with you to the retailer, sit on a dining chair, and note the height of the edge of your table. When you're sitting down to eat, leg room is crucial, so make sure you get this one correctly.
3. Personalized Designs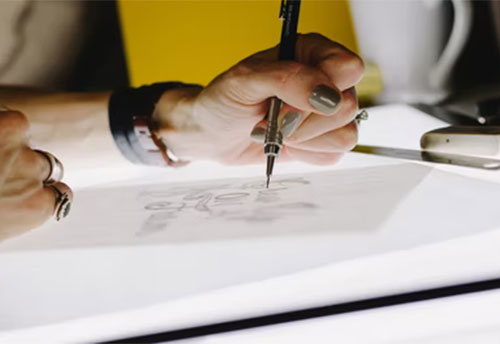 Source:Unsplash
Personal preferences are essential to whatever dining chairs you choose. The Materials you choose, type of wood, and the overall upholstery narrow down to the house setting and your personal tastes.
4. Comfort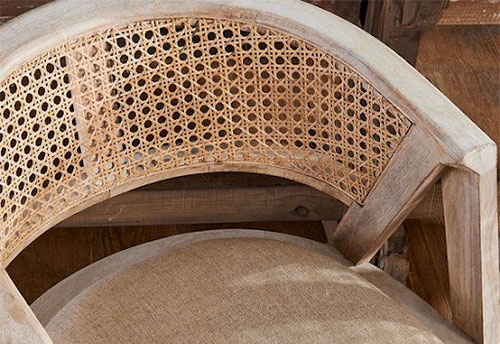 Source: Pinterest
Can you sit in a backless chair pleasantly for the next three hours without getting up? If you answered yes to this statement, you have a steel back. Nevertheless, we strongly advise you to go for a more comfy chair. Particularly when it comes to food. Since if you're not comfy in your chair, you're not going to feel great about eating.
When it comes to dining chairs, it's remarkable how some individuals make decisions exclusively based on appearances, disregarding comfort.
If you live with children, expectant mothers, or the elderly, purchase dining chairs with a seat cushion and an inclined back that make getting up and down easier. Holistic designs are perfect for keeping our bodies in good shape and providing all the back support we need to sit comfortably for long periods of time.
5. Budget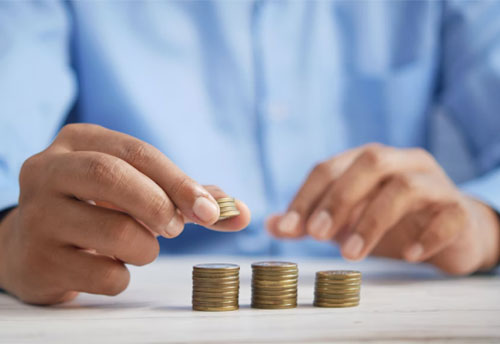 Source: Unsplash
What if you could obtain inexpensive dining chairs in stylish designs with reliable quality? Try to contact Keekea and explore their premium dining chairs, all of which come with a lifetime guarantee that you won't even find somewhere else.
6. Lead Time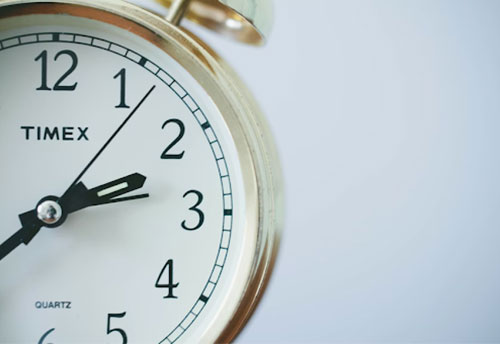 Source: Unsplash
Every chair takes a considerable amount of time to be manufactured. So, it depends on your level of patience and your needs. If you are getting the dining chairs for your warehouse, the last thing you want is to keep your customers waiting. So ensure that you get quality and have samples from them as you wait for the complete batch to get to the warehouse.
If you are purchasing dining chairs for your newly bought empty home, the last you want is to wait for months before getting your chairs. So we advise you to choose dining chairs that require less time. If, however, this home is not your primary residence, then you can wait a little longer. All you need is to work with a trusted manufacturer.
Differences between Buying Dining Chairs for Home and Commercial Areas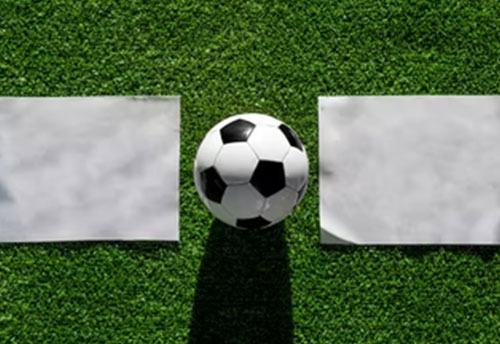 Source: Unsplash
1. Quality and Durability of the Dining Chairs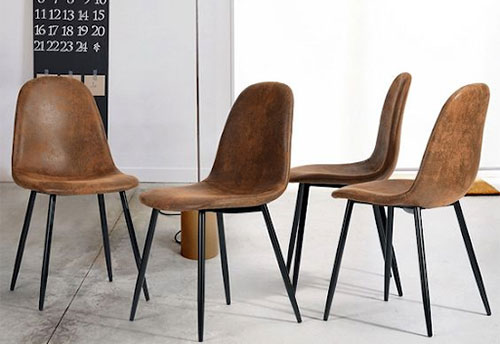 Source:Pinterest
While household and business furniture may appear to be the same, the substances utilized might vary greatly in terms of longevity. Commercial furniture designers take into account the fact that the furniture, including chairs and tables, will be used by a variety of individuals on a regular basis. This implies the wood is harder and has been treated with Polyurethane coatings to help safeguard it from wear and tear and repeated washing.
The powder-coated and baked aluminum frame is wear and flake proof. Powder Coating also produces a rich, dense appearance with a smoother surface that draws minimal dust and enables less filth to build, making it simpler to clean and maintain.
Foam padding, which comes in a variety of densities, hardness, and heat resistance, is first used to cushion the seat of upholstered furniture. Dissimilar to domestic furniture, contractual furniture is subject to more strict safety regulations, and the most stringent regulations, such as CAL 133, can typically be implemented for a minor extra cost.
Bulk and firmness parameters are included in all foams, and the harder the foam, the greater the density and heaviness. Although more costly, harder foam is more pleasant and lasts longer.
2. Removability of the Dining Chairs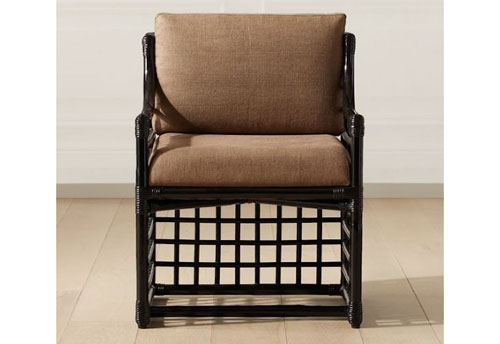 Source: Pinterest
While it makes things easier for anyone when they are making dining chairs purchases to purchase chairs that are easily removable. Now, for home use, the removability of dining chairs isn't at all that essential. In a commercial setting thought it helps to make sure that the chairs can easily be transported to the client's location and assembled there.
Either way, the sense of removability of dining chairs varies slightly in each.
3. Space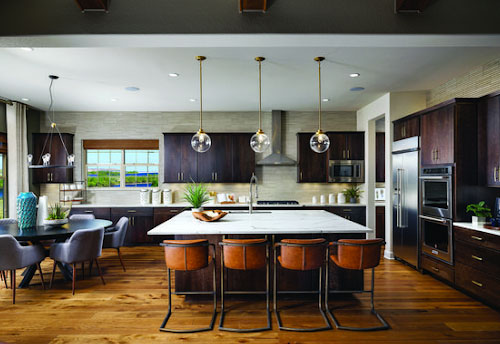 Source: Pinterest
For commercial dining chairs, the setting space determines the size of the chiars being bought. Moreover, the number of chairs is determined by the space between tables and the number of people it's meant to accommodate. For home use, the dining area dimensions and the family size will be the aspect that will be considered.
Conclusion
Purchasing dinner chairs can be quite overwhelming if you have not made up your mind about what exactly you were looking for. Make up your mind from the fabrics, materials, number, and dimensions of the dining chairs. Luckily for you, Keekea has experts who can help you and guide you through the purchasing process so that things will not be as overwhelming. Contact us for more dining chairs samples and other furniture.