We use furniture every day in our place of work, schools or even at homes. This furniture comes in different sizes, shapes, and materials. We live in a dynamic world and every day we see an upgrade of different furniture all over. Are you up to date on the most recent chair trends?
When it comes to this form of furniture, a widespread misperception is that acrylic chairs are the same as plastic chairs. It is not the case! The differences between acrylic and plastic chairs are numerous, and we are here to shed some light on them. Learn more about these two sorts of seats by reading this article.
What Is An Acrylic Chair?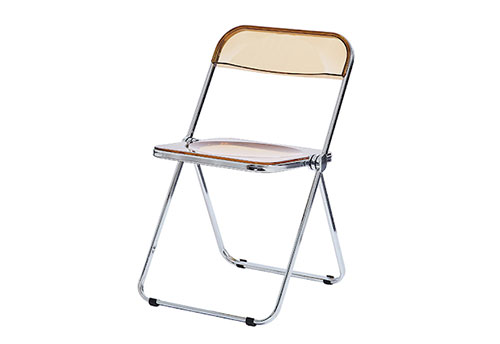 Source: KEEKEA
It is a piece of furniture made of acrylic, a type of plastic. Because of its transparent look, the chair is sometimes referred to as a ghost chair. While the majority of acrylic chair types are transparent, others are tinted with different colors to give the chair more definition and aesthetic appeal. A clear chair mimics glass in appearance, however, acrylic is more durable than glass. It might be more prone to itching.
Acrylic is a strong and optically clear transparent plastic with good strength and stiffness. Acrylic sheet is easy to make, adheres well to adhesives and solvents, and maybe quickly thermoformed.
An acrylic chair's design can vary substantially depending on the designer's intentions, and the chairs might be fairly plain or feature a more modern, experimental design. Acrylic is quite easy to mold into different shapes, and there are several methods for doing so, therefore acrylic chair designs are generally far more diversified than chairs made of other materials.
Features Of Acrylic Chairs
They are strong and durable.
They can be molded into different colors.
They are stylish.
Can make a small space look bigger.
They are also easy to clean.
Acrylic Chair Manufacturing
If you are sourcing quality acrylic chairs, work with an accredited acrylic chairs manufacturer, having a better understanding of how they are made is a huge plus. This will enable you to invest in the best products to satisfy your specific market requirements. Rotational Molding is one of the manufacturing techniques that acrylic chair factories commonly use.
When it comes to the fabrication of Acrylic products, rotational molding is a common industrial procedure. Both thermoplastic and thermoset plastic materials are used in this procedure.
Most firms consider this technique to be a terrific alternative, especially because it is not difficult. In comparison to other production techniques, it also necessitates less expensive tooling. This is made possible by the fact that the mold is filled using centrifugal force rather than pressure.
All of the objects you make with rotational molding should have uniform wall thicknesses. This makes things easier for you and allows you to work with items that are tailored to your requirements. When it comes to working with short-run productions, this method is ideal. When it comes to the manufacturing of Acrylic Chairs, the following procedure will guide to manufacturing the best quality.
Charging. The plastic powder is introduced into the mold cavity during the charging stage. When it comes to making high-quality Acrylic chairs, the type of material utilized is extremely important. The final elements of the mold are installed once the powder has been placed in the cavity, and the mold is closed for heating.
Heating. The heating of the plastic powder is a crucial feature of this stage that affects the results of the products you make. Heat is applied to the plastic powder until it melts and binds to the mold's walls. The mold is rotated along two perpendicular axes as the molten plastics adhere to the walls, ensuring a homogeneous covering.
Cooling. Different manufacturing procedures are unlike other manufacturing processes in that the cooling process occurs while the material is still in the mold cavity. As a result, the ingredients are allowed to cool while the mold rotates. This prevents sagging or other abnormalities by ensuring that the acrylic materials cool uniformly.
Removal. This is the process of removing the part that is being manufactured as the end product. You will get a better sense of how the products are and the quality you will be investing in after the portion is gone.
What Is A Plastic Chair?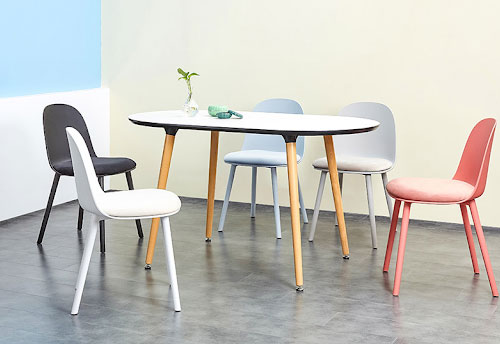 Source: KEEKEA
While acrylic is one type of plastic, not all plastic materials are acrylic. Plastic chairs are featherweight polypropylene chairs that can be found in a number of environments. Plastic chairs are a low-cost seating choice for both residential and commercial buildings. The first granules are heated to around 220 degrees Celsius and the melt is put into a mold to make the plastic chairs. To provide a smooth flow to all sections of the tool, the gate of the mold is normally situated in the seat.
There are many different types of materials used in manufacturing plastic chairs and all these materials are used depending on the type of plastic chair to be processed. These materials include Nylon which is extremely solid, acrylic, PVC, and uPVC which are stiff and tough lightweight plastic. Polythene, polypropylene, melamine, and others.
Features Of Plastic Chairs
They are weatherproof
Attractive combination
Availability of different styles
They are easy to maintain.
They are durable
Plastic Chair Manufacturing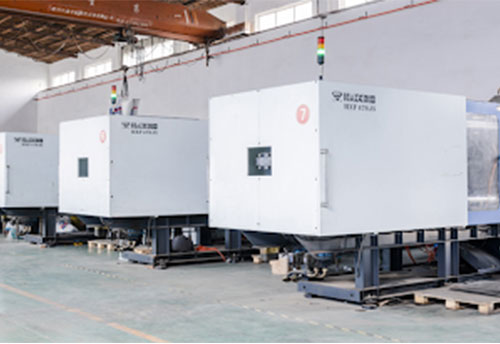 Source: KEEKEA
There are various manufacturing procedures that are employed in the production of high-quality plastic chairs. These procedures are meant to have a variety of benefits and features that make them excellent selections for working with plastic chairs. Injection Molding is one of the industrial methods.
When it comes to producing high-quality plastic materials, injection molding is by far the best manufacturing process. Injection molding machines are used in this process, which is designed to provide the most precise results.
You must work with qualified plastic chairs manufacturers if you want to invest in plastic injection molding services. This will provide you with the best outcomes and allow you to spend on high-quality products that will help you achieve your goals.
When it comes to injection molding, you can make your plastic chairs out of a variety of plastic materials. This gives you more options and allows you to use a variety of plastics if necessary. It's worth noting, though, that when it comes to the injection molding process's tools, you will need to spend on the molds you will be using.
Your intended product design will be required by your injection molding manufacturers, and you can work with them to build one. After that, work on the mold design to ensure that the features of your product design are taken into account.
Following the approval of the mold design, the mold-making procedure will commence, which will necessitate the usage of specified materials. Working with the best injection mold tooling makers would be a huge help in this regard.
They will make certain that they use materials that are tailored to meet your requirements. The injection molding of your plastic chairs begins after the mold-making process is completed. Different aspects are addressed during the injection molding stage. They are as follows:
Setup of the mold. Securing the mold on metal plates once it has been created is a terrific way to give it additional stability and ensure that the products are built precisely. After the metal plates are in place, clamps are used to secure the mold to the injection furniture molding machine.
To ensure that you get the best products to fulfill your objectives, the mold setup stage must be treated seriously. Because the mold is secure, the molten material has plenty of time and space to form and cool.
Introduction of molten plastic Material. The injection process begins with the introduction of molten plastic material into the mold cavity. To ensure that the plastic ingredients are ready for injection, they are reduced to pellets and heated.
They are then placed in the injection device and slowly injected into the mold once they have melted. The injection remains in place during this period to allow any excess molten material to drain back and avoid abnormalities. After that, the injection tool is taken out of the mold cavity.
Molding. This is the process of allowing the molten plastic to take the shape of the mold in use. In this situation, the molten plastic will take the shape of the chair design that was created earlier using the molds. The walls of the molds are designed to be uniform in thickness, ensuring that the finished products are uniform.
Cooling. The plastic product is allowed to cool once the molding process is completed to ensure that it retains its shape precisely. It takes some time to get it thoroughly chilled and ready to use.
Release. The finished product is released after cooling and can now be employed to guarantee that you enjoy its use. If any polishing or repairs are required, these will be completed at this time. The plastic product is allowed to cool once the molding process is completed to ensure that it retains its shape precisely. It takes some time to get it thoroughly chilled and ready to use.
Plastic VS Acrylic Chairs
We have now seen acrylic and plastic differences, their features, and how they are manufactured. In this session, we will look at the pros and cons of both plastic and acrylic chairs. Read on.
Plastic Chairs
Pros
Plastic chairs are currently all over from restaurants to hospitals to workplaces and even in some homes. Their popularity has been due to their numerous benefits. Check out the pros of plastic chairs.
Environmentally Friendly. Many pieces of plastic chairs are created from recycled plastic and can be recycled when you have finished using them. This means that buying plastic chairs has a low environmental impact and reduces the number of trees cut down to manufacture wood furniture.
Maintainance-Free. All you have to do is bring it home and set it up the way you want it; you won't have to spend any more time or money on it in the future. Unlike other materials, plastic does not require painting and does not rust. Also, wood might crack and need to be refinished and it is not the case with plastic chairs
Affordable. Plastic chairs are priced friendly when you compare them to other chairs available in the market.
Safe for children. Plastic furniture can also be colorful and cheerful, making it ideal for children with butterfingers or a proclivity for dropping things. Plastic will never splinter you or your children, and it has a high elasticity, which means it will not break under unexpected hits.
Easy to clean. Plastic chairs are not complicated to clean. All you need is a clean cloth and water. They also dry faster after washing them.
Lightweight. Another advantage of plastic chairs is that they are not heavy. You can easily ferry them from one end to another.
Styles: These chairs come in a variety of styles, each of which varies in terms of comfort. There are reclining chairs, study table chairs, children's chairs, and a variety of other styles to choose from.
Weather Resistant: Because these chairs are weatherproof, they can be used outside in patios and gardens without worrying about the weather. Unlike when wood or steel is exposed to rain and sunlight, the paint peels or comes off.
Versatile. This quality cannot be overstated, as the versatility of plastic materials stems from their capacity to be molded, laminated, or shaped into almost anything. Plastic may be used in practically any situation.
Cons
Plastic is a non-biodegradable material that will have long-term negative consequences for the environment.
Acrylic Chairs
Pros
Acrylic chairs provide a number of advantages, including:
Acrylic furniture is simple to clean and even simpler to remove any type of scratch or damage from its surface. This is one of the key reasons why so many people prefer acrylic furniture: it's so simple to clean and maintain! Simply clean it with a gentle cloth and soapy water.
They are extremely sturdy and do not break easily, making them excellent for usage in children's rooms and outdoor locations. You will be astonished at how robust and durable acrylics can be, so once you try them, you will never go back to glass!
Acrylic furniture is non-toxic and does not have the same negative environmental impact as other plastic products making them even safer for children.
Acrylic furniture is UV resistant and does not fade when exposed to the sun's damaging rays.
Another compelling argument to consider Keekea furniture is its sleek and contemporary appearance. Acrylic objects will blend in wonderfully with a contemporary interior design style.
Cons
Acrylic chairs have a number of drawbacks, including:
Acrylic furniture reacts negatively with some of the chemicals found in detergents and cleaners, resulting in a yellow film on its surface.
It must be handled with care because if it is touched harshly and forcefully, it may develop untreated scratches.
Conclusion
I believe we have answered this popular issue concerning the differences between acrylic and plastic chairs up to this point. Companies are more conscious of the importance of projecting a favorable image of their office through furnishings in order to make customers and employees feel comfortable in a professional atmosphere. Always contact a reputable chair and table manufacturer like Keekea who can meet all of your needs and give customization if necessary.