The year 2021 marks a turning point in the history of clear acrylic chair. When there are so many innovative and contemporary patterns to pick from, it might be difficult to decide which one to show in your store. These 11 top acrylic chair designs for 2022 are sure to meet the demands, regardless of whether one is looking for something stylish and unique or just want a chair that is comfy and easy to maintain.
This list includes a wide variety of items, including patterns and styles that are influenced by the past as well as sleek contemporary looks.
1. Acrylic Folding Chair
Standard Hardware Accessories
The basic hardware components, which feature several screw connections and are sturdier and more robust, making the chair more stable and difficult to shake.
High-quality PP material, developed to mould to the human body, smooth surface, good texture, pleasant and free of burrs.
Corrosion & oxidation resistance
The metal leg structure is polished by pickling and phosphating at high temperatures, granting it a high load-bearing capacity and resistance to oxidation and corrosion.
Specifications
| | |
| --- | --- |
| Part No. | CFD100001 |
| Seat Depth (CM | 40.3 |
| Seat Height (CM) | 46 |
| Width (CM) | 47.5 |
| Height (CM) | 75 |
| NW (KGS) | 5.5 |
| MOQ (PCS) | 50 |
| Packing Type | 1 PCS or 1 CTN |
2. Lucite Ghost Chair by Modway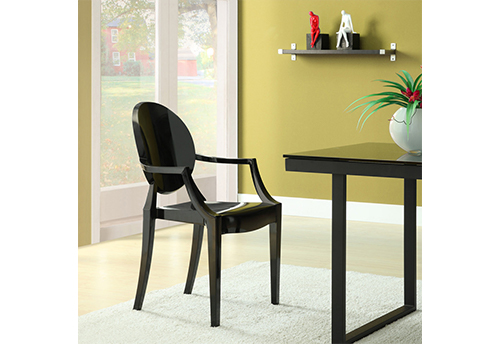 Combine artistic endeavors with the ethereal Casper Chair to create a harmonious and beautiful vision. As this work of art affects its environment, enables creative inspiration to permeate all areas of any contemporary living space. The Casper Chair may be used both indoors and outdoors and is surprisingly durable and sturdy. Pure perception awaits as bright bursts of illumination open up new vistas of transcendence. These are some of this chair's features:
Transparent Chair
The unusual design and transparency of a modern armchair can be utilized to create a visually appealing and inventive dining or working place.
A Most Versatile Chair
Casper is the chair of choice for enhancing contemporary interior design. It is commonly found on computer desks, writing tables, and bedroom and bathroom vanities.
Indoor/Outdoor Use
Popularly bought for weddings and other outdoor patio or backyard events, Casper enhances the dining experience both inside and out. Casper is stackable and easily wipes clean.
Acrylic Design
Stylish and strong, this modern chair is injection molded using durable polycarbonate. Ready for everyday use, Casper does not require assembly and comes with non-marking foot caps
3. Colored Acrylic Chair by Patrick Norguet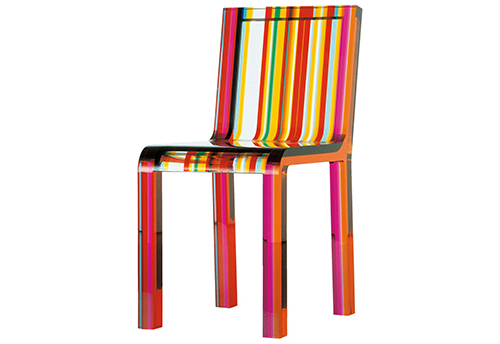 The Rainbow chair was designed by Patrick Norguet and is composed entirely of acrylic resin. It also incorporates strips of varying lengths and colors that have been ultrasonically welded together. The collaboration of technological study and skilled craftsmanship resulted in the formation of this marvelous piece of furniture.
It was created through a collaboration between technology research and craftsmanship, and its attractiveness is due to the contrast between its clear lines and its riot of color. It has a shimmering appearance and a shiny shine due to the fact that it was produced by hand.
This is the ideal way to end a day that was spent slowing down and relaxing. It has a style that harkens back to the 1970s and the 1980s, respectively. In addition to that, this chair has a particular shade to it.
When it comes to the patterns and colors that complement an acquisition, one have a wide variety of options to select from. The use of pink and black in the chair's design results in an appearance that is both vivacious and contemporary. The perfect location for this chair would be by the water, either at the beach or the pool.
4. Ghost Chairs With Arms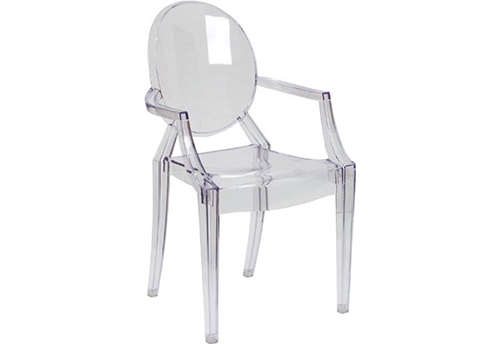 The modern design, stunning appearance, and useful functionality of the translucent ghost chair will be an asset to any business, may it be a restaurant or any special event that a client hosts. This modern chair, with its Louis XVI design and near-invisibility, pulls the focus to artwork and other pieces of furniture, opens up a crowded area, and has the potential to make a small room appear larger than it actually is.
It does all of these things by blending in almost completely. This chair is resistant to stress, scratches, and water thanks to its curved arms and contoured seat, as well as its frame, which is manufactured from a substance called polycarbonate. In addition, polycarbonate material is used for the frame.
Protective floor slides will prevent harm to the flooring while enabling one to move these magnificent chairs in a smooth and uncomplicated way. The ghost chair is a classic choice for an accent chair, and because it does not obstruct the user's line of sight, it is a great choice for nearly any design scheme. It is intended for use in business settings, both indoors and out, and can function in either environment.
5. Armless Ghost Chair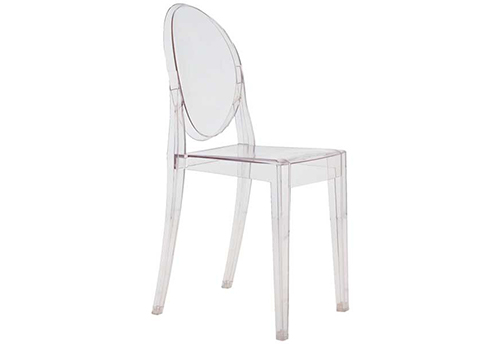 Philippe Starck, working for Kartell, designed the Victoria Ghost chair in 2005. This chair is a more angular take on the Louis Ghost chair, which was quite successful. The armrests have been removed from the chair, making it lighter overall. The Victoria Ghost has a distinct aesthetic along with a structure that is both comfortable and powerful.
It is constructed of durable plastic that is see-through. Because of its historic appearance as well as its modern composition, the Victoria Ghost is suitable for a wide variety of settings and applications. The chair is stackable and may be used both inside and outside.
6. Stackable Ghost Chairs
Features:
Due to the glossy texture of the clear chair, one will see swirls. Molding lines and injection points for single injection molding will be present in some locations. They lack any defects. Additionally, the chair has a blue/purple hue, although it will fade over time.
Four Victoria ghost chairs and one mold injection make up a set.
Using polycarbonate (stronger than acrylic)
It is shipped completely assembled, stackable, and UV protected.
Ideal for domestic and commercial indoor or outdoor use, including living rooms, dining rooms, bedrooms, nurseries, waiting spaces, parties, banquets, wedding receptions, and dining tables. Etc. The colors Clear, Smoke, Black, and White are available; please explore our other offerings!
This chair is a terrific example of how to merge two very different styles to create a look that is completely one of a kind. Anyone is free to rearrange these ghost chairs on their table in any way that one sees fit. There are no limitations placed on creativity in this regard. In addition, the user has the option of selecting the base color from one of two distinct options.
7. Outdoor Ghost Chairs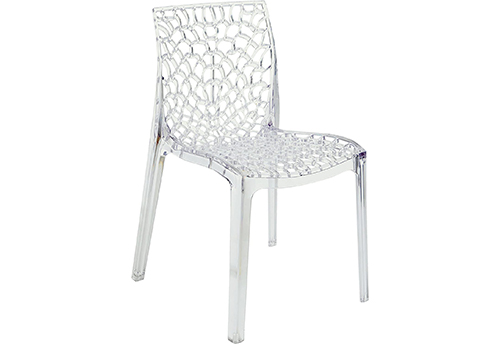 Looking for a unique and stylish addition to an indoor or outdoor dining area? Look no further than UPON's ghost chairs! These chic and contemporary chairs are perfect for any setting and are made from the highest quality materials. With a design that is both comfortable and stylish, these chairs are sure to be a hit with everyone who sees them. So why wait? Order ghost chairs today!
Ghost chairs are a fashionable addition to indoor-outdoor dining. The largest furniture design and production firm in Italy, UPON, has produced a gorgeous chair made of exceptionally durable polycarbonate that has been forklift-tested and sledgehammer-tested without breaking. UPON has been the market leader in both design and functionality for over 50 years.
These incredibly comfortable seats are now accessible in the United States. Use them in any weather conditions outdoors. They may be cleaned easily with soap and water. Accommodating individuals weighing up to 250 pounds. Each chair is 20.6″ in depth, 20.5″ in width, and 31.7″ in height (52 cm).
8. Vintage Lucite Chairs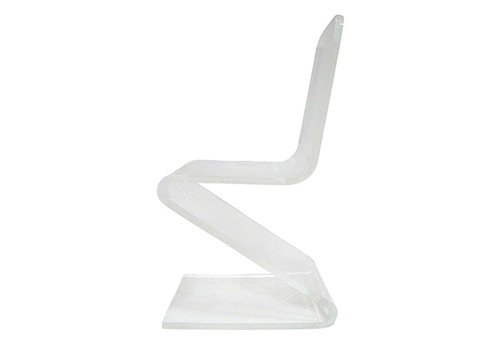 This chair is an essential piece for the interior design of all contemporary homes. Due to the fact that its design is straightforward and its construction is see-through, it makes for a fantastic accent item that can transform the appearance of any location into that of a more refined one.
It is in immaculate condition and will look fantastic when paired with any other contemporary furniture or accessories.
This is the finest method for giving the impression that any given room is more open and has better circulation of air.
Due to the unquestionable quality of its construction and the basic nature of its plan, it is a perfect choice for any modern or contemporary home that may be constructed in the future. In addition to that, it may be used to give any environment a shimmering aspect by applying it in the appropriate places.
9. Modern Acrylic Chairs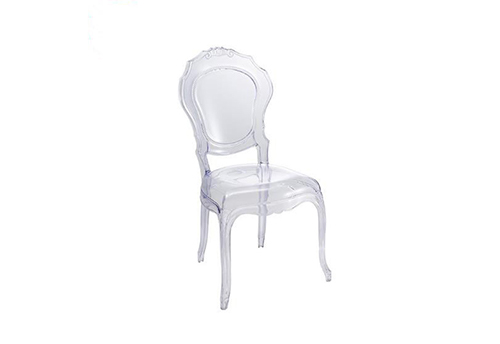 Chairs made of modern acrylic are a chic addition to any home designed in the present day. Because of their see-through construction, they are airy and light, and their high level of durability ensures that they can withstand frequent use. To keep them looking as if they were just manufactured, all that is required is a simple clean with a damp cloth.
If searching for a beautiful and modern chair that is also comfy, then consider purchasing this acrylic chair. Its contemporary design will make any space appear wonderful, and the soft seat will let the user feel at ease and at home in no time.
10. Acrylic Dining Room Chairs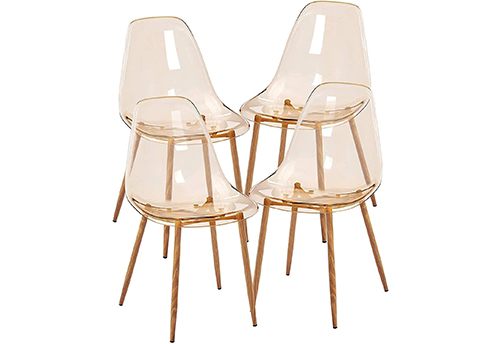 The Greenforest Acrylic Dining Chairs have a shell shape that is both straightforward and elegant, making them a perfect compliment to any kind of interior design. the kitchen, the living room, the dining area, the living room, the conference rooms, the lounges, and the cafés.
The seat and back of this chair are crafted from plastic that is a light brown color. As a result, interior living spaces will have an appearance that is chic and modern. Additionally, the surface of the chair is quite simple to clean.
The chair legs are really composed of metal tubes that have been painted to make them look like they are made of wood. Each leg can support up to 250 pounds.
After the packaging has been opened, the assembly process typically takes between fifteen and twenty minutes. Using the tools that are provided, the product may be put together by even a teenager. When having trouble with the chairs, get in touch with the after-sales service provided by Warmheat at any time.
11. Acrylic Living Room Chairs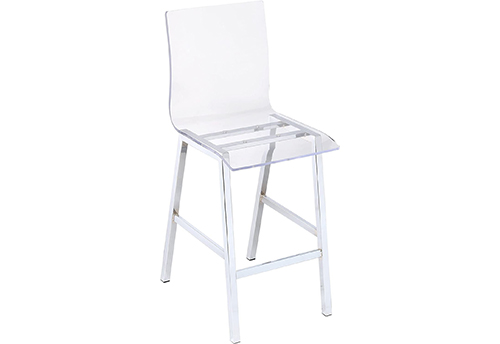 Bent acrylic is used in the construction of the back support and seats of the Nadir counter height chairs. These back supports and seats are chic and offer a comfortable seating experience. These chairs are one of a kind and have a metal frame that has been chrome-plated and an acrylic seat that is quite robust. The cutting-edge design of the eating area, which works in perfect harmony with the chrome base of the table, will make anyone forget to breathe for a moment.
These chairs for the living room similarly have chrome armrests and bases, but the seats are made of acrylic that is black in color. The fact that the back of the chair is made of metal lends it increased longevity.
Conclusion
These 11 acrylic design chairs can help anyone achieve a fashionable look while also allowing one's innovation to create a modern atmosphere in business places, offices, restaurants, etc., at a reasonable price. If in need of a chair for a particular occasion or want to create a fashionable look for one's business or restaurant, these chairs are excellent. In general, these seats will never fail!
For any custom-designed acrylic chairs and acrylic chairs in bulk, Keekea is your most trusted supplier in China. Because they are composed of PP and wooden chair legs, the acrylic chairs from Keekea are suited for any situation due to their glossy appearance and strong durability. As demonstrated by performance testing, we provide customizable and distinctive acrylic chairs that are constructed for long-term usage and designed to appeal to a wider audience. Why trouble? For any information, please contact us immediately.